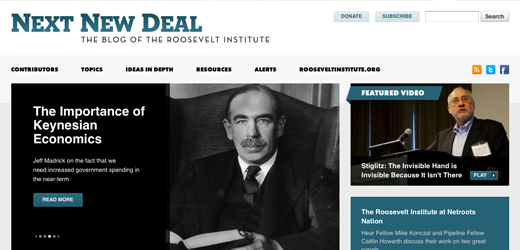 This week, eight weeks after we completed Roosevelt Institute's ND2.0 project, the redesigned blog is brimming with current posts and activity. ND2.0, or Next New Deal, is a blog fostered by supporters of the Roosevelt legacy and acts as a community think tank for progressive leaders and communicators endeavoring to restore America to economic and social balance.
ND2.0's focus reflects Roosevelt Institute's nonprofit mission to be "devoted to carrying forward the legacy and values of Franklin and Eleanor Roosevelt by developing progressive ideas and bold leadership in the service of restoring America's promise of opportunity for all." Roosevelt Institute goes about manifesting this mission through four main channels: Campus Networks, Four Freedoms Center, Franklin D. Roosevelt Library and Museum—the first U.S. Presidential library—and through their online community at ND2.0.
Aten came onboard with the Roosevelt Institute in November of last year to aid in creating a new blog interface for its online community of writers, supporters and activists. Unlike standard blogs, ND2.0 needed to house multiple content types, requiring a robust interface able to effectively manage a range of material while engaging the user throughout each section.
Aten's Lead Architect, Joel Steidl, commented on the uniqueness of ND2.0's needs:
"

The Next New Deal blog pushes the boundaries of 'standard' blogging functionality with the ability for multi-author blog posts and multi-author micro-blogs, so Drupal ended up being a good fit for the expanded, more customized experience.
You can read more about Joel's work for this project in one of his recent blog posts, Painlessly Migrate Wordpress to Drupal.
Contributors to ND2.0 post regularly, sharing ideas on national debt, social reform and education, amongst many other topics. Currently, the post lineup includes discussions on ObamaCare, Keynesian economics, and a call out announcing upcoming Netroots Nation 2012, this year's annual gathering of a similar community of internet based progressive thinkers. At Aten, we love being a part of these growing online communities and helping to advance various efforts dedicated to the common good.
User Experience
Site Launch
Process
Content