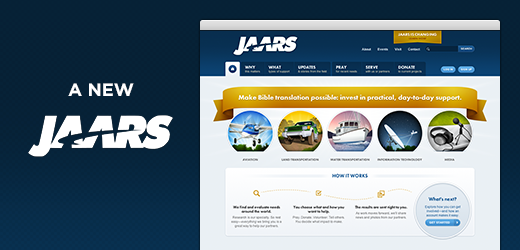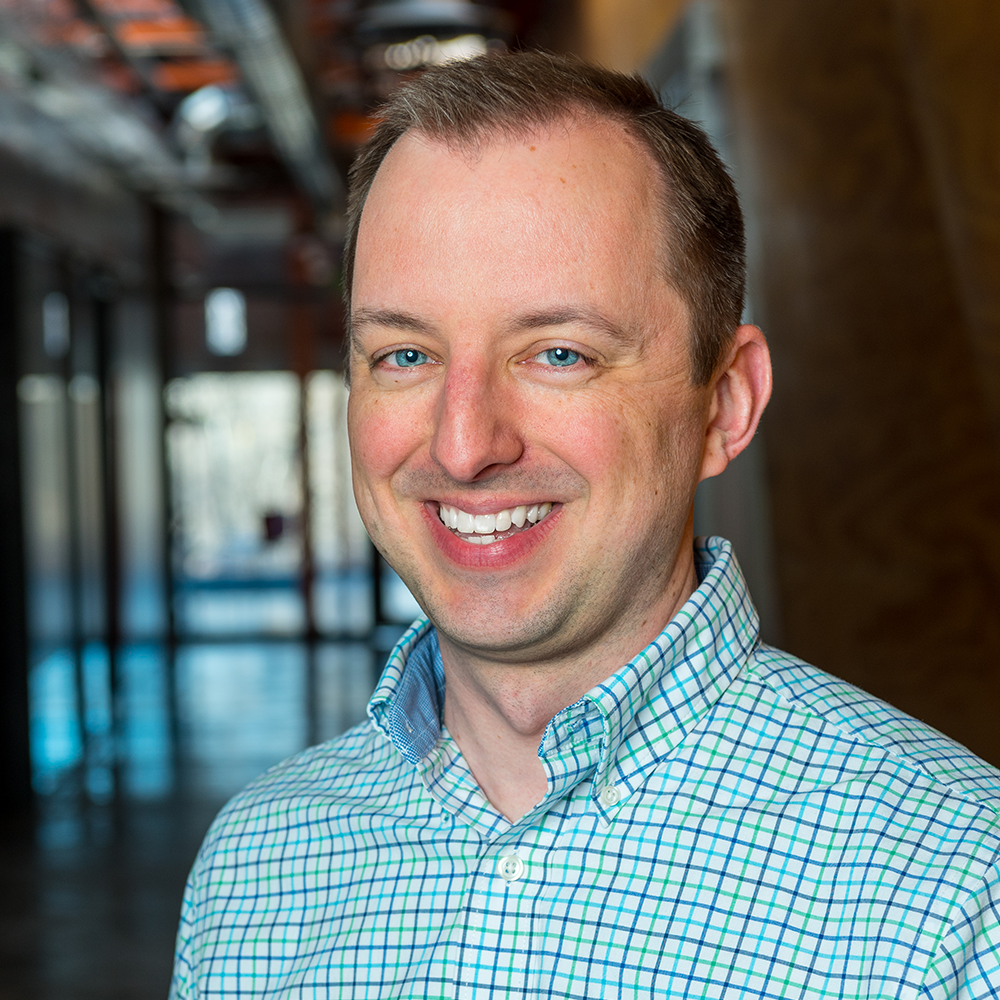 In 2009 we launched a new JAARS.org website with a design that moved the JAARS brand forward and helped them communicate their role in providing practical support for Bible translation. But like anything on the web, over time it became clear that the site was in need of a redesign. Both the goals of the site and the organization had changed, and a new design was needed to reflect those changes. It is with great pleasure that we would like to introduce you to the new JAARS.org.
---
The Goals
JAARS works with partners all over the world to get support to Bible translators, focusing on five specific areas: Aviation, Land Transportation, Water Transportation, Information Technology, and Media. Highlighting these areas, as well as projects, partners and locations, was a key goal of the redesign.
Types of Support
The five types of support each lend themselves to visual representations. We created scalable vector icons for each as a way to both highlight the five areas JAARS works in and also as a way to relate content to each area throughout the site.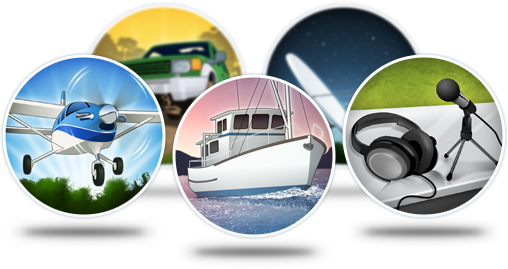 Focusing on Projects
A large part of the redesign had to do with how projects were presented. In the redesigned JAARS.org, projects have been simplified to give focus to the most important or time-sensitive projects. The addition of a separate "Where Needed Most" fund helps JAARS quickly allocate funds where they can be most effective.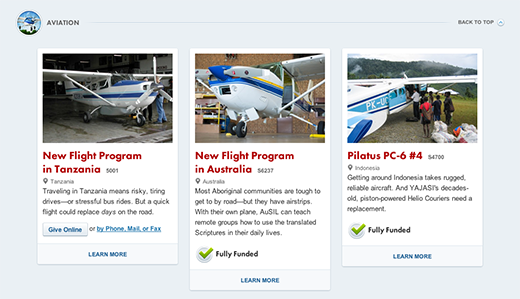 ---
The Design
As the number and variety of mobile devices grows, creating a design that can adapt to those devices is key to the success of any website. But how do you empower content creators to write content within that design? With the new JAARS.org we had two primary concerns when creating the responsive design: making it work across the plethora of devices in existence today and in the future, and giving content creators the power to write content that can respond to the changes the design will make on different devices.
Responsive!
It is an exciting time to be designing on the web. The internet has never been boring, but things are suddenly a million times more interesting with the explosion of responsive design. We wanted the new JAARS site to just work, on any device. Using a combination of progressive enhancement and responsive design techniques we were able to make the experience on JAARS.org seamless across devices.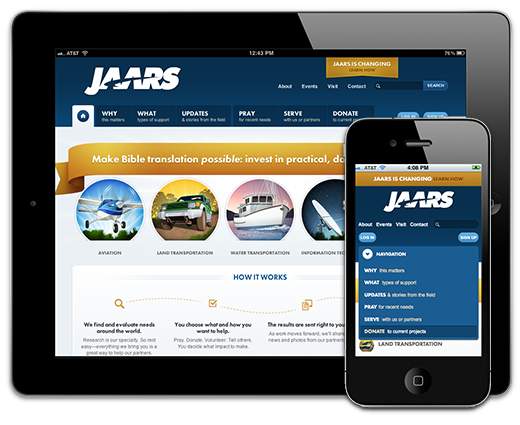 Putting JAARS in Control
Any time a site is controlled by a CMS there's always a certain amount of control over content that has to be given up to keep things dynamic. JAARS wanted certain pages to have completely custom content and to have control over the layout of that content. To allow this level of control, we created simple, flexible markup snippets that JAARS staff can add directly to content, as well as an online style guide that shows examples of that markup.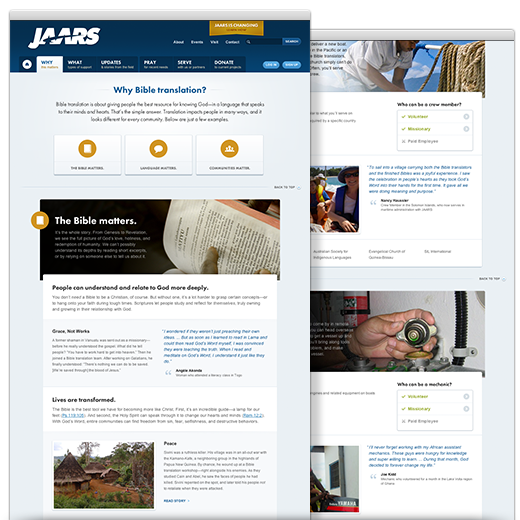 ---
That's a Wrap
We're really excited about the new JAARS.org and we can't wait to see what the JAARS team can do with it. Take a look and let us know what you think!
Design
Site Launch