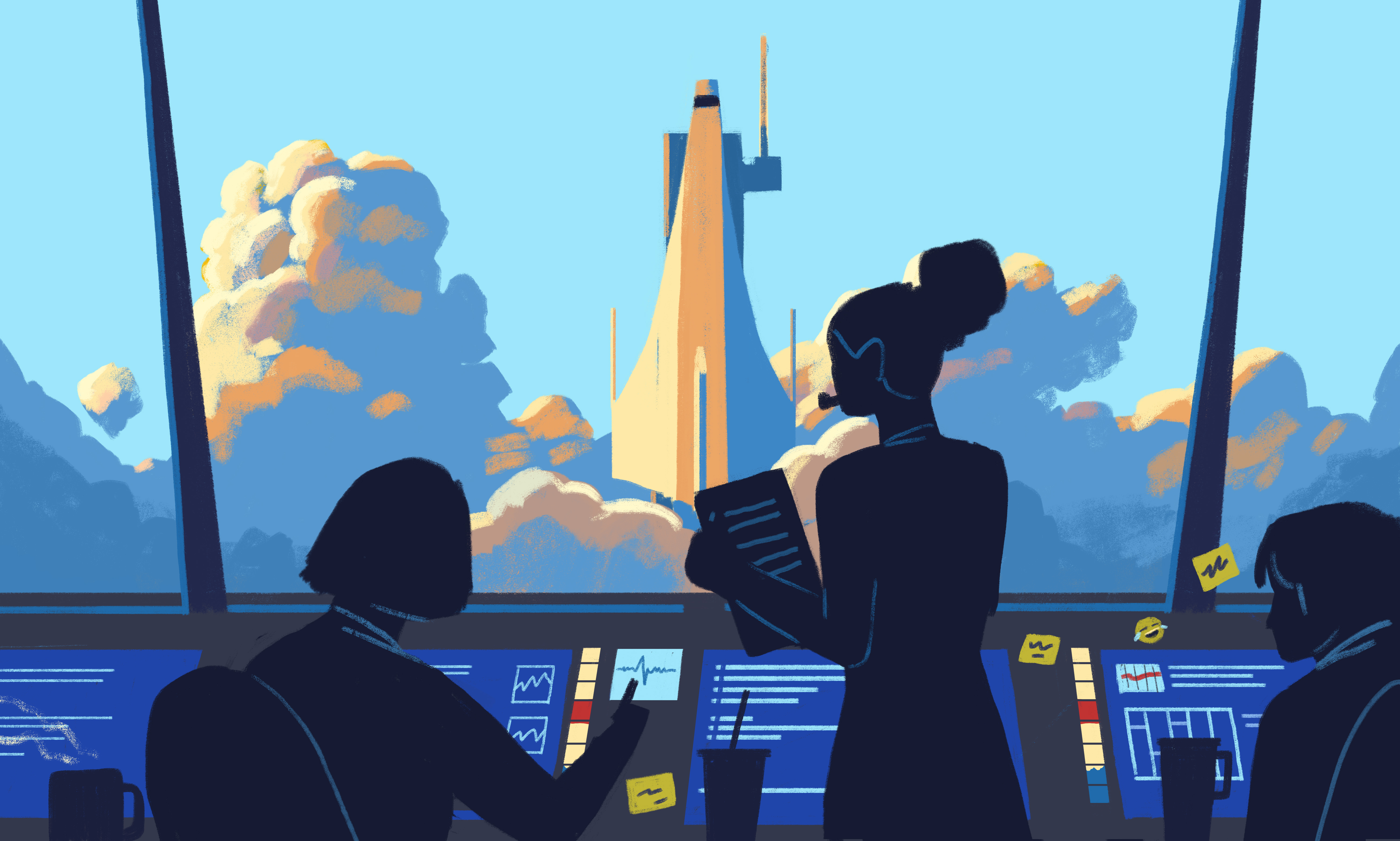 Launching a new website is the culmination of hundreds or thousands of person-hours. Working with a creative agency to design and build your new digital platform isn't like buying a new car, new house, or new office equipment — it's reaching common consensus with your team on how your organization will interact with its clients and audiences, and how your team will drive those interactions.
And now you're almost done — wrapping up those final details and with the launch-date "X" on your calendar fast approaching. Here's a quick list of the most important things to think about in the weeks leading up to website launch. Let's do this.
Website launch checklist
Website launch checklists: make absolutely sure that you have one. Digital products are complex. It's taken a team of veteran interface designers, software developers, project managers, information architects, and quality assurance specialists to get you this far. Launching a website isn't just "flipping a switch" — each member of your agency's diverse team needs to weigh in before the final step of pointing yourdomain.com to the brand new website you've been working so hard at.
Most software development teams use robust website launch checklists to manage these last-stage steps. Is your SSL certificate purchased, installed, and ready to protect your website and your users? Have your previous website's pages all been redirected to appropriate pages on your new website? Is your website analytics platform properly configured to measure how users interact with your content? Are automatic data backups setup? How about other automated tasks that need to run hourly, nightly or weekly?
Website launch checklists can vary in size and complexity depending on the website. Our standard list is more than thirty items. Each item needs to be "owned" by a client or agency team member, and each item needs to be marked as "done" before website launch is a go.
Make sure your agency has a website launch checklist, has shared it with you, and has clearly discussed how it will be managed leading up to launch day. Typically this should happen at least 30 days out — are you clear about what hosting provider you're using? What your primary domain will be? What's going to happen with your old website? Some of these issues take time to manage.
Access: sharing is caring
Access to any services related to your website should be shared with your agency. Google Analytics for website traffic statistics, Search Console for search engine traffic analysis, SendGrid for sending secure emails from your website, GoDaddy for managing your domain, or MailChimp for newsletter and communication integrations — your individual list probably looks different, but it's just as important. Often this will mean setting up new users with the right permissions for your agency's team members. Tracking down the right administrators to dole out the appropriate access — and testing to make sure it's right — can take some time.
Third party service integrations and APIs rely on credentials, too. Things like PDF generation services, external databases, payment gateways and more could fall into this category. It can be hard to find and / or recover these credentials after years of silent, background use, especially since no humans are regularly "logging in" to something with a username and password. You may need to log in to the service on their website and search for "API keys" or other authentication methods.
And don't forget about two factor authentication! More and more services are not only offering but requiring two factor authentication. In these cases, sharing usernames and passwords just isn't enough. A quick meeting with your technical lead or lead developer is probably the best way to flesh out a complete list of pending credentials.
Any questions?
As a major website stakeholder all of your questions should be answered. If you're a content editor, a webmaster, an analytics guru, an e-store inventory manager — or anyone else who will be working with the new website — you should be feeling super comfortable with the new platform in the weeks leading up to launch.
Training on new content publishing tools, new workflows, new reporting dashboards, and anything else you've built should already be complete. Can these images be centered? Can I promote products to the front page, or just articles? Can I add an arbitrary block with images and text to the "About" page? How do I change who receives the email for event registrations?
Most of your questions as project stakeholders will come from hitting obstacles — obstacles that you'll discover by going through your day-to-day tasks in detail. If you expect to be working with the new website once it launches, you need to be trying to complete your tasks using the new tools in the months and weeks leading up to launch. This often takes the shape of training sessions with members of your agency's team, but it's only as effective as it is thorough. Training should go far beyond live sessions with developers or QA specialists. Assigning yourself some "homework" and spending a few hours without the pressure of an audience / trainer is a great way to discover obstacles, questions, and potential issues weeks ahead of launch day.
Do it live!
Lines of communication should be wide open on launch day. You've been working through your checklist for a few weeks, and there's a satisfying "done" status next to almost everything. Your team has found and shared all the necessary access, credentials and API keys with your agency. Your website managers, content contributors, and any administrators or webmasters have all been fully trained — they've all spent considerable time going through the motions of their tasks on the new platform, and everyone's questions are answered. Your marketing team is poised to promote and engage. It's time to launch.
Actually "flipping the switch" (switching DNS to point yourdomain.com to the machine that's hosting your new website) just takes a minute, but it can take hours or longer for users across the globe to see the change.
As your new digital platform comes online, your team and your agency should be collaborating to make sure everything is going as planned. Are redirects from the old website working? Are all of your API integrations behaving as expected? Are emails from your site delivering successfully? Are there any 404 (webpage not found) errors being reported?
The minutes and hours surrounding website launch are critical. Assuring the process goes as smoothly as possible depends on open, easy communication. At one end of the spectrum this could be an open-room Zoom meeting where your team members can pop into a conference room with questions for developers, project managers, or QA specialists on the other end. A conference call or Slack channel could suffice, too, as long as there's virtually zero wait time to ask questions as they come up.
A website launch is a collaborative event. While it's definitely possible (and ideal!) to launch a website with zero hiccups, you're going to want your team present if anything catches you by surprise. One thing's for sure: being on hold, typing into an empty chatroom, or listening to ring after ring at your project manager's desk is not acceptable on launch day.
---
A website launch should be exciting. But without the proper planning and preparation, it can easily become a source of stress and frustration for your team and an interruption or degradation of service for your users. It's your agency's responsibility to outline the process far in advance, and guide you through the steps it takes to launch your new digital platform without a hitch.
Interested in learning more about building digital experiences with Aten? Have questions about website launch timelines or comments about how your team manages website launch checklists? Feel free to drop a note in the comments section below or drop us a line directly.
Process
Digital Project Management