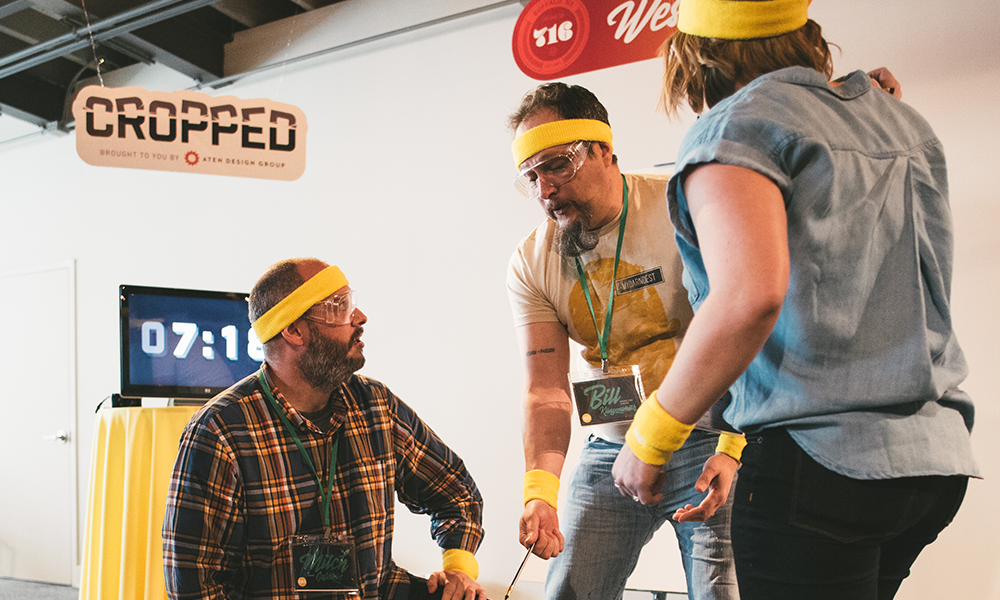 This year's Create Upstate in Syracuse, NY brought in six fabulous speakers, a day full of workshops, live t-shirt printing, a huge marketplace, and twice the space at the venue. Being one of Create Upstate's three organizers, I had a vested interest in finding a way for Aten to be involved in the event beyond sponsorship. We were thrilled to help bring the inaugural version of "Cropped" to Create Upstate 2016. Cropped is a live design competition pitting designers from across Upstate against each other in a battle to see who has the chops and who gets cropped.
---
A little background
As planning for 2016 began we knew that we wanted to add something different to this year's schedule that would get people excited about their design community and give them a break during the day. The first idea for an activity was something that involved all attendees, splitting folks into teams that would work together to make something. We eventually scrapped this idea in favor of something more manageable that wouldn't force people to participate if they didn't want to. Thus, "Cropped" was born.
---
The People
Teams
A few weeks before the event, we sent out a poll to the Upstate NY design community, asking them to nominate an exemplary local designer. A selection of the nominees became our contestants. We created teams of three to represent the West, Central and East regions of Upstate NY. We also shared very few details with each team. Surprises are fun! Check out the rosters:
Judges
For judging, we pulled in four amazingly talented designers we knew could provide witty commentary and pointed feedback to the contestants. We invited Anne Jordan, Marc Stress, Amy Papaelias, and Doug Bartow (last year's MC) to be judges. You couldn't ask for a more "Fontastic" group of experts.
---
The Event
Theme
Each team was given 10 minutes to brainstorm what they would create given the theme: "The future of design is…" Working together they sketched out ideas on paper and on the 40x60" foam board given to each team. Following the planning phase, one person from each team jumped into Round 1 where they had 15 minutes to lay down the initial details of their team's piece. For Round 2, the second team member had 10 minutes to add to the composition. Finally, Round 3 gave the last team member 10 more minutes to bring the whole thing home.
Materials
The twist in Cropped is that the contestants didn't know what materials they would have to use. Each round presented different materials that presented their own challenges. We laid out materials in closed boxes that were opened at the beginning of each round, so contestants didn't even have time to prepare for how to use them. Here's a breakdown of the materials given to each team:
Timing
I even got to build a fun timer app that ran during the event, making sure teams knew just how little time they had left!
---
## The Results
You can see for yourself but each team created a unique vision for the future of design. Whether it's "Making better bull****" or a journey into the unknown, it's sure to be an adventure. I think Ira Marks from team Upstate West said it best when he said, "The people change but the tools stay the same… Or something else!" Congratulations to the Cropped 2016 winners from Upstate West!
Cropped was a huge success. Getting designers from across Upstate NY together and watching them create made for a very entertaining hour. Aten was thrilled to be able to play a part in such a creative endeavor. We're already talking about how we can make Cropped better for next year.
Have ideas for making Cropped even better? Let us know in the comments!
Design
Events