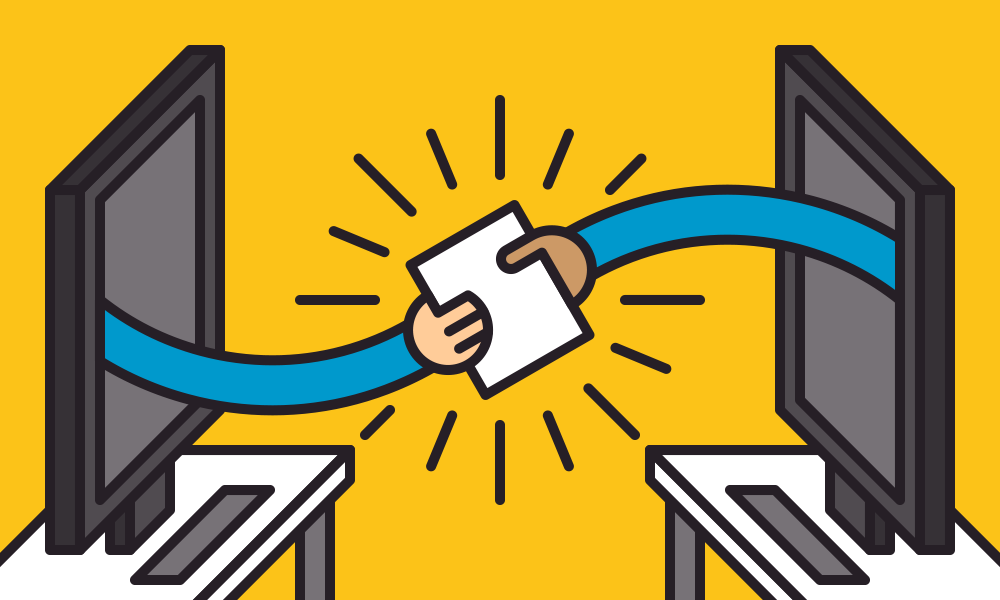 Gone are the days when email was the best way to communicate and share files. Teams need tools that support collaboration, even more so now with the rise of remote workers. I've worked remotely for more than 10 years. As a Partner and VP of User Experience, having tools that let me effortlessly collaborate with my team is vital. Whether you're in the same office or working from the other side of the country, the digital tools you use—and the way they work together—can take the headache out of collaborating. We've used a lot of tools for file sharing, video calls, and chat over the years and Dropbox, Zoom, and Slack are the best yet.

Dropbox is a powerful file syncing and sharing tool that automatically saves files to your remote Dropbox account. This makes it easy to access anything from your computer, phone or the web. Our team uses Dropbox to share files for every project.
Dropbox can act as a backup tool, saving important files whenever they're changed. It also tracks versions so you can easily go back to a previous state, perhaps eliminating the need for obtuse file names like "Design-01_final_FINAL_October2016_2.psd" (just an example. We would never name our files that way!).
As a backup tool Dropbox is stellar, but the real power comes in the form of something called "Selective Sync." By adjusting a few options, Dropbox lets you choose which files to keep locally while still keeping other files backed up to your Dropbox account. Conserving hard drive space may not be an issue in the future but it can still be challenging for people with smaller drives. Dropbox is working on ways to make this even easier with what they're calling, "Project Infinite." For now though, Selective Sync makes saving space easy.
Dropbox has plans that start with a Basic account level that provides 2GB of space for free. A Pro account gets you 1TB for roughly $8/month. For teams, Dropbox Business costs $12.50/user/month.

As a remote worker, video calls are the next best thing to being in the same room with someone. Zoom is our tool of choice for video calls. It can handle a large number of people (50!) by default without sacrificing video quality, something not all video call software can say. Joining meetings is dead simple as people can call in from their phones or computers.
Zoom also allows screen sharing, something we use quite often to talk through designs and other deliverables as a team. We even use it during meetings to give presentations to clients. It takes screen sharing one step further, featuring tools to remotely control another person's screen. Just the other day I showed a teammate how to do something in Illustrator over a Zoom meeting.
Zoom has a number of plans, including a free Basic account whose only limitation is that meetings with more than 2 people end after 40 minutes.

What is Slack? … Wait, really? j/k. Slack is a powerful messaging app for teams. For us, it acts as the hub for communication. The Aten slack group is where all company and project conversations happen. We have channels for specific teams (ux, front-end, dev, etc.) and projects. We also invite clients into Slack project channels to make communication even easier.
For the UX team, Slack is a great way to talk about the files and projects we work on daily. Both Dropbox and Zoom integrate with Slack, letting us quickly share files or jump into meetings. You can "pin" messages in Slack channels too, keeping important documents always at the ready.
Slack offers free groups with a few limitations (10,000 messages, 10 integrations) and a paid plan which currently costs $6.67/user. Learn more about Slack plans.
---
If Dropbox and Zoom are peanut butter and jelly, Slack is the bread that holds it all together. Having tools that integrate with each other is necessary for successful collaboration. There's a lot more to Dropbox, Zoom, and Slack than what I've gone over here. From my experience these tools are clear winners in their categories… for now. Who knows when the next Slack or Dropbox will come along?
Design
Process