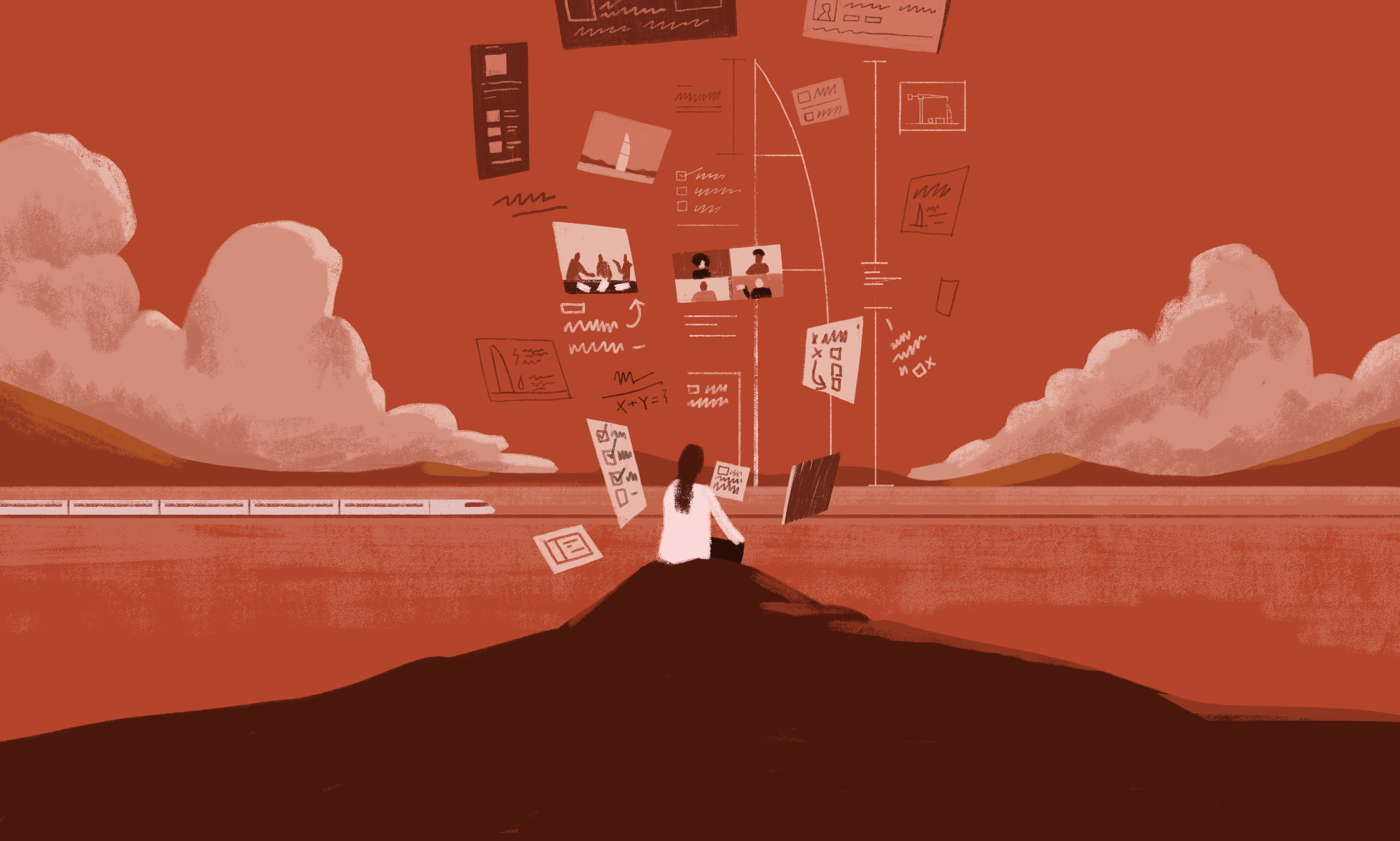 Make a Plan for your RFP
Whether it's to launch a simple brochure website, build the next killer app, or revamp your brand guidelines, every digital project starts with an idea. Ideas, however, are ethereal. Before you commit limited resources, you need to translate your intangible idea for a project into an actionable plan.
The following steps will set your project up for success before you issue an RFP or select a partner. They may even save you some time and money since they mirror what an agency typically does during an initial discovery phase.
Identify the Challenges
Digital projects are often organized around solving challenges your team faces with an existing product or hopes to overcome with a brand new product. Perhaps your website isn't clearly communicating your brand and engaging your audiences, or perhaps your staff don't have the tools they need to effectively manage internal processes or produce beautiful digital content.
Whether you're planning to empower your editorial team, connect with new audiences, or update aging software solutions, identifying the challenges you're hoping to overcome is a first and critical step. With a short list of identified challenges you'll have what you need to get the right conversations started, and start exploring what a solution might look like.
Stakeholder Interviews & Surveys
There are a lot of people with a stake in your new digital project. Effective stakeholder management will gather their insights, keep your project on track, and sidestep the deadlock of "committee think" — getting all the right people in a room together but without a common goal or unifying vision to move you forward as an organization.
I quote the co-founder of Mule Design at least once a week: "There's no design so great it makes you feel good about being left out of the process." People need to be heard. And their contributions and collaborations need to be structured to support a common goal.
Stakeholders are not just the people on your immediate team. They may be people across your organization. Who are these folks?
Department level / organizational leadership.
Subject matter experts within your organization.
Anyone who has authority to approve the budget.
Anyone with a decision-making role on your project.
Anyone who will work with, or maintain, the project after it's been delivered.
We recommend starting with one-on-one meetings with key stakeholders to discuss and develop your identified challenges. These conversations should confirm and further define common concerns and aspirations for the project. They're also a great place to start setting expectations and determining what questions you need to bring to the wider group.
If you have a small stakeholder group, you may want to organize in-person meetings to ask questions and reach consensus. If you have a larger group, we recommend putting your questions into a survey. A survey is a great way to collect information from multiple sources. Remember that your survey will be the most effective if your participants have already been included in conversations about the key challenges you're hoping to address.
Some common stakeholder questions include things like:
What defines success to you on this project?
What is your biggest concern for this project?
From your perspective, who are the most important audiences for this project? In other words, who does this project serve and why will they care about it?
After your new site has launched, what words would you use to describe the website?
What are some examples of work you would like to emulate and why? (the "and why" is critical)
What are some of the features/deliverables you would like to see on this project and why? (the "and why" is critical)
Survey questions will change depending on the organization. Take a look at Aten's boilerplate stakeholder survey form for a better idea.
Surveys are a great way to measure general engagement and specific interests. Response rates will show you who's eager to contribute and who you need to chase down during your project. You'll also get a sense of your stakeholders' interests and better understand when to include them in your production timeline (eg: "This stakeholder is keenly interested in events on our website. I should invite them to the working session when we review event detail page designs.")
Goals
After collecting the results of your stakeholder survey, you're likely to discover that you have as many ideas, interests, and priorities as you do participants. Don't panic — you'll find overlap in many of your survey responses. Shared goals should be defined within that consensus with the aim of satisfying all of your stakeholders.
Goals should be clear, concise, and measurable. They should respond to the challenges you identified earlier in the process, clarify the intent of your project, and orient your team around shared, actionable purpose.
The following queues can be helpful when working to organize your survey results into shared project goals:
How will this project benefit your organization?
How will this project impact individual stakeholders?
What does our organization risk by not doing this project?
Why is now the right time for this project?
Try to limit yourself to no more than five goals that address — as well as possible — all of your stakeholders' concerns. Here's an example of project goals inspired by recent higher education projects:
Support increased enrollment and a diverse population.
Improve resource management and employee support.
Improve recognition/awareness of the school to enhance recruitment and student retention/satisfaction.
Provide clear, concise information and streamline the user experience.
Improve staff performance and satisfaction.
Audiences
Who is your digital project for? Who will be using your platform and what are their specific needs? Understanding and catering to your audiences is at the core of user-centered design. The more you consider what your users need and how to deliver it, the more successful you're likely to be.
At the very minimum, you should work with your stakeholders to define a list of audiences. This might include broad categories like researchers, readers, and clients — or internal groups like content editors or writers. Think about all the people that will interact with your product, and work to boil that down to a list of audiences.
Take a look at this piece on building empathy with personas for a better idea of how knowing your audiences and empathizing with them creates better digital products.
Get a sense of what to expect
If you're taking on a project that's completely new to you or to your team, you might not know where to start, how long it's going to take, or how much it will cost. Reach out to people who have done similar work. Colleagues, peers, and vendors are great resources when it comes to understanding how the project you're taking on will be organized.
If you're planning a redesign for an existing platform, perhaps you already know that these projects typically start with strategy, pivot to design, and wrap up with software development. Don't forget to consider content strategy, information architecture, and content migration — three significant tasks that can require a lot of time and focus from your team. You can get a sense for how much effort these tasks will require and where they sit along your project timeline from vendors or colleagues who have gone through a recent redesign.
Questions like "What are the major phases you see in this project?" and "What will be required from me and my team?" will give you a general sense of how the project will unfold. Answers to those questions will also help you manage your team's expectations, and will prove valuable in qualifying proposals and evaluating vendors.
Finally, consider identifying and briefing your core team — the members of your team that will work closely with your chosen vendor. You can use a RACI chart (a responsibility assignment matrix with four roles: Responsible, Accountable, Consulted, Informed) to further define team roles and let team members know how they'll be involved at a glance. In the given example you can decide on deliverables (column A) with your team, and eventually, your chosen vendor. Column headers B, C, D, etc can be internal departments, ad-hoc teams, or individuals depending on the size and structure of your organization.
Qualify vendors
Speaking with a handful of vendors about your upcoming project can help you to expose opportunities and risks that may not have been visible to you, and sanity check your assumptions around the "iron triangle" of scope, timeline and budget.
Get started by putting together a call list. Whether it's through browsing portfolios, seeking recommendations from colleagues, or scouring B2B reviews, you'll want to end up with a couple of contacts who have experience with similar projects. Ideally, they'll share your excitement for the project — and shed new light on its possibilities.
Once you've set a few meetings it's time to walk through your project as you understand it so far, and ask vendors to provide their thoughts on timeline and budget. They may not have that information at their fingertips, I know I often don't. Aten does a lot of custom work that can't be priced like an a la carte menu, so it's not always possible to determine a budget for a project I'm just learning about. When you encounter reticence around discussing costs, share your budget and listen to what vendors say. Comparing reactions to your budget from various vendors is a great way to ground and verify your expectations.
The step of finding qualified vendors early on may seem self-explanatory for smaller organizations that don't have a dedicated procurement team. For organizations that do have a procurement team, this is the time to qualify vendors. Most procurement officers shut down direct communication with qualified vendors once an RFP is issued.
Share your findings & begin vendor selection
You've identified challenges, collected stakeholders' thoughts, set concise goals, defined audiences, done your research, and begun conversations with a few vendors. It's time to circle back with the key stakeholders you met with at the outset of this planning process and share everything you've learned so far.
A good way to share findings, reiterate goals, and decide on a way forward is to conduct a town hall-style meeting with your stakeholders. This doesn't have to be a formal presentation in the boardroom. It can be a simple five to ten minute synopsis — project goals, audiences, what you heard, vendor feedback, etc. — followed by an open Q&A session. You probably won't need a lectern or an auditorium. Successful town halls can be informal "brown bag lunches," or conducted from your desk via Zoom. The most important thing is to make your work visible, collect feedback, and build consensus around taking the next step.
What is that next step? For a lot of organizations it's writing a great request for proposal (RFP) and distributing it to qualified vendors. Take a look at this article I wrote in 2019 about writing a great RFP. It goes into much greater detail about converting your existing project plan (goals, audiences, surveys, etc) into a formal RFP geared towards engaging vendors with the right questions and the right preliminary data.
I'd love to chat about any of your questions regarding project planning, writing an RFP, or engaging vendors. Feel free to drop me a line, or just drop a question in the comments section below.
Process
Digital Project Management