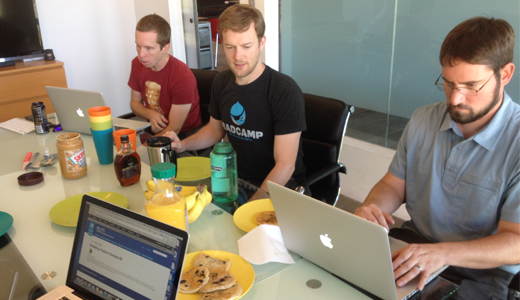 For the first time in my working life, my favorite part of the week is Monday morning. Really. I love 'em. To me, the first few hours on a Monday morning have become like the calm, shallow end of an inviting pool—just the way to ease into an oncoming week.
Much like safe and dependable steps into that pool, Aten has what we aptly call our "Monday Morning Meeting." To start the work week off right, our whole crew, local and remote, comes together for an hour of debriefing and planning. We discuss current projects and responsibilities, hear status reports from project leads, and cover any necessary administrative updates.
Providing an accurate weekly snapshot of where we are with our targeted goals is a vital part of our process and a big part of my job. Monday mornings are often my busiest times, with lots of data collection, analysis and reports preparation. I try to get in early so I have plenty of desk time before we meet.
Before I get to the office, though, I make an important stop; not only do I show up on Monday mornings ready to crunch numbers, but I show up with breakfast! Before getting down to business, our team has a meal together—nothing fancy (I haven't brought in a personal omelette chef, yet), but a simple, wholesome start to the day that we can share over coffee and conversations about our weekend adventures.
This time together, talking about life, our families and our work, has become such an important part of our office culture. In addition to the priceless focus and planning that takes place on projects, it's awesome to see Aten team members sharing jokes, making plans to get together outside of work or swapping stories about mutual pastimes.
Coffee, muffins, and a simple agenda can make all the difference between the Aten team running like a well oiled machine, or being disconnected and less productive. Looking back over past jobs I've had, I've spent a lot of Monday mornings overwhelmed and stressed out, or trying to wake up and get motivated. I am so grateful for Aten's Monday Morning Meetings; an hour of collaboration, creativity and laughter; who wouldn't want to start their week with that?!
Process