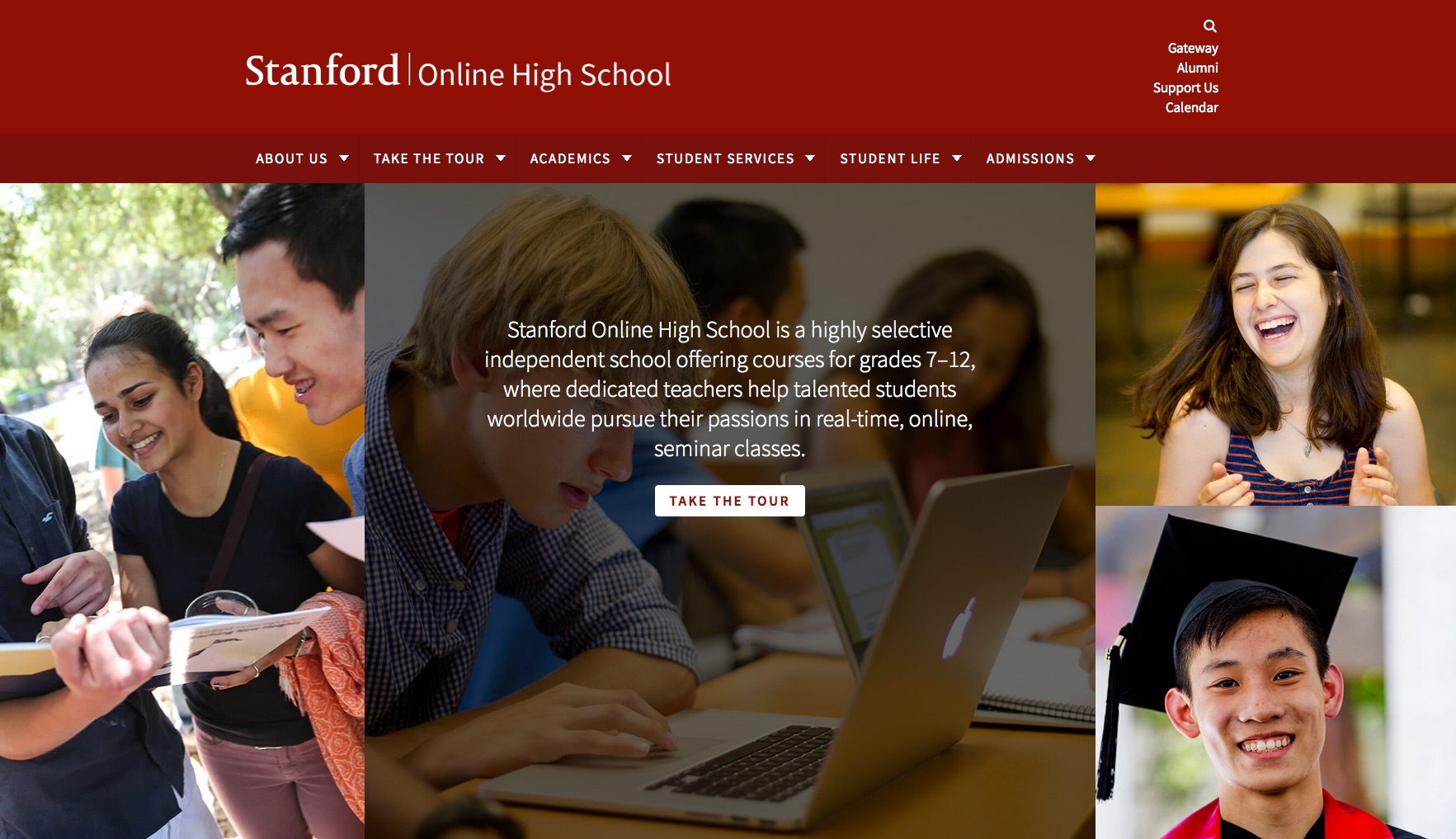 We recently helped launch Stanford Online High School (OHS), the debut product within a distributed architecture for rolling out individual sites for Stanford Pre-Collegiate Studies.
Related reading: Managing Stanford Pre-Collegiate Studies with a Pantheon Custom Upstream
Stanford Pre-Collegiate Studies
Stanford University provides over a dozen academic opportunities for youth on the path towards higher education through its Stanford Pre-Collegiate Studies (Stanford PCS) programs. The programming is what you would expect from Stanford: rigorous, meaningful, dynamic. Together, we developed the tools necessary to pursue their ambitious recruitment goals and tell the stories of these pre-collegiate programs to prospective students and their families.
Stanford Online High School
Central to Stanford PCS is the Stanford Online High School (OHS), a fully accredited online school bringing in Stanford professors who are experts in their field. Stanford OHS is not your run-of-the-mill high school, where students hide behind their screens and work leisurely to obtain a high school diploma, but rather a community of highly engaged and motivated students constantly collaborating and socializing with one another across time zones. We set out to build a platform in which the OHS could tell these stories and clearly articulate the unique nature of the school. In addition, we worked to build an internal system which teachers, students and parents can use to get up to speed with the processes and policies of the school.
Designed for Replication
While the Online High School is the hallmark project within the suite of pre-collegiate programs available, we needed to build a system that met the specific needs of OHS while also providing these same tools for the other twelve (and growing) programs to establish an equally strong online presence.
Built as a Drupal Distribution
Drupal is a powerful tool. Some go as far as calling it a framework rather than a content management system. For our needs, we needed to wrangle the complexity and power of Drupal into a system that Stanford could use to easily spin up sites for each of their programs. To do this we built Stanford OHS as a distribution, rather than a single custom site. We compared the user needs for Stanford OHS to the users of the other pre-collegiate studies programs in order to understand the feature sets we would be working with in totality. We then designed and developed those features sets so that varying combinations of features enabled would all establish a strong, coherent online presence meeting the specific needs of each program.
Planning Now for Later Needs
As a result of this architecture, Stanford PCS now has a distribution that ramps up to provide the Online High School with an array of features including a course catalog, student bios, classrooms at a glance, news and an intranet. Other programs can make use of these features as needed. The High School Summer College, for example, makes use of the Student Life feature to show what prospective students can look forward to. The distribution can also scale back, offering simple yet compelling online presences for programs regardless of size. The remaining PCS programs will be rolling out their new sites using the PCS Distribution in the coming months.
Reflections on the Project
It's exciting to build features that we know will make significant impact for our clients. Taking those features and building them to be flexible and easily scale makes that process all the more satisfying. It taps into the power of intentional information architecture and development best practices of reusability. I'm proud to have played a part in developing a tool that steps up and answers the diverse yet connected constellation of Stanford Pre-Collegiate Studies programs with an equally flexible yet maintainable distribution system. For now, you can see the distribution in action at ohs.stanford.edu and summercollege.stanford.edu.
Drupal
Education
Information Architecture
Site Launch