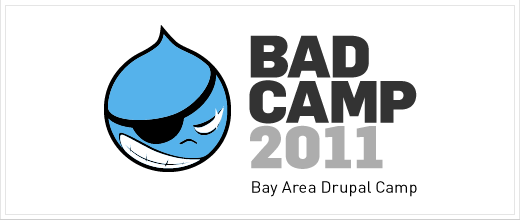 This weekend seven members of our team we'll be joining hundreds of Drupal enthusiasts for BADCamp 2011. This fantastic regional event will be held at the UC Berkley campus, boasting keynotes from Drupal's creator and project lead Dries Buytaert, Lullabot CEO Jeff Robbins and Danese Cooper, Open Source Strategist at the Bill & Melinda Gates Foundation.
##Sessions Several of our team members will be speaking too.
Ken Woodworth, Justin Toupin and Joel Steidl will be presenting Efficient workflow for design and development projects, where they will talk through how we move Drupal projects from concept, to design and through production, using Drupal as the technical backbone for much of the process.
In Using Views Programatically, Jason Yee will describe how to progress beyond simple configuration of views to creating and modifying views programmatically with both views hooks and views templates.
Ken will join Chapter Three's Senior Designer, Garret Voorhees, and our own Scott Reynen to talk about recent drastic changes in the world of web typography (especially for Drupal) that make web fonts work like never before, demonstrate what can be done with web typography in Drupal today, and recommend approaches to new challenges, like selecting the right font and dealing with cross-browser font rendering.
##Free Training On Friday, Scott and Joel will be mentoring trainees at the free Build a Module.com Mentored Training for Site Building, along with Build a Module.com's Chris Schattuck and a team of great Drupal mentors.
##Sketch Books Because Aten Design Group is a proud sponsor BADCamp, the kind folks organizing the Camp offered us a table of some sort from which to hawk our wares. This means a bunch of awesome free stuff: stickers, pins and – most importantly – sketchbooks. We'll be bringing along the books we made this summer for DrupalCon London. So if you missed getting a book from me at DC London, or you've already filled yours up with notes and sketches and such, come by our table and get your own book while they last.
We'll be posting important BADCamp happenings on Twitter all weekend long, so keep an eye on the old @atendesign account.
Drupal
Drupal Planet
Events