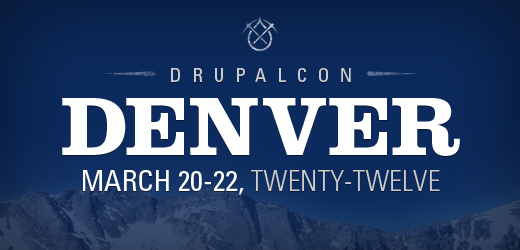 Last Thursday at DrupalCon Chicago, I had the honor of helping announce the much-anticipated destination for DrupalCon 2012, along with Ben Jeavons (GVS) and Kevin Bridges (Examiner.com). In March of next year, 3000+ Drupal developers, project managers, business managers, information architects, designers, and others will be ascending on the Mile High City for three days of sessions, training, networking events, and code sprints. Doubtless there will also be ski trips, incredible parties, and good Colorado beer for all.
The Drupal community in Colorado is excited, to say the least, and is rising to the task of planning what has become the preeminent event for lovers of open source and the internet worldwide. Pulling off the most awesome DrupalCon yet is going to take a lot of work.
Keep up-to-date -- or better yet, get involved with organizing the conference -- at http://denver2012.drupal.org.
Meanwhile, you should attend DrupalCamp Colorado this June.
In the nearer future, we're looking forward to DrupalCamp Colorado, the must-attend Colorado event for anyone using -- or considering using -- Drupal. Last year we had more than 300 attendees, both from the region and as far away as New York, San Francisco, Hungary, and The Netherlands. Camps are inexpensive, incredibly informative, and provide tremendous opportunity for connecting with the Drupal community.
Drupal
Events