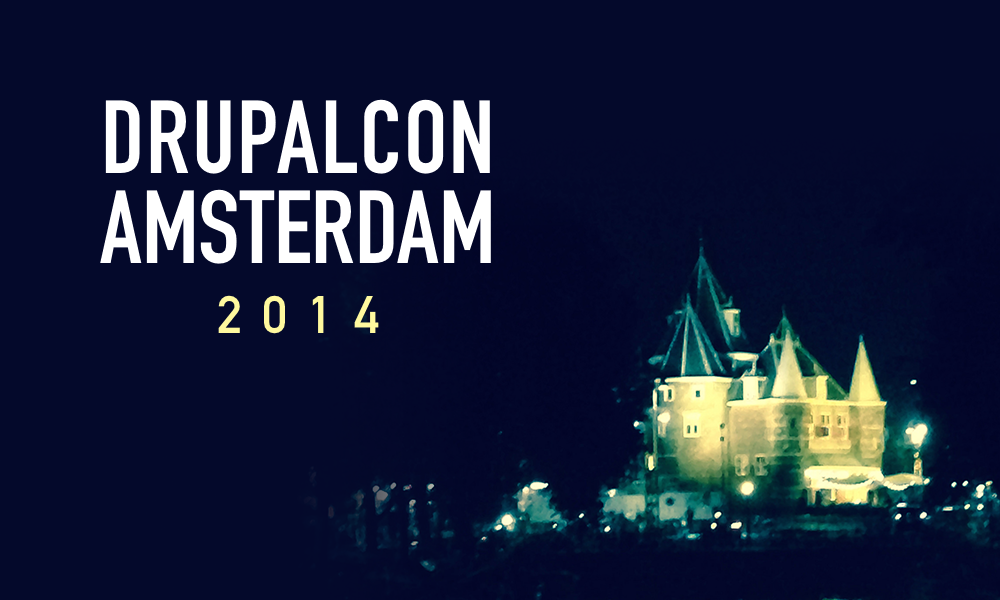 I just got back from DrupalCon Amsterdam. In many ways it reminded me of my first DrupalCon in Barcelona. In 2007, I was brand new to Drupal and excited by a turn I had made in my career. I was astonished by what was then a young and energized community. I saw so much possibility and started making friends. Some of these people, seven years later, are my best friends.
In Amsterdam in 2014, the Association staff put together a remarkably well-run event. It felt small and intimate despite being larger than any European Con to date. The number of new community members was striking. I had the pleasure of talking with many people who were attending a Con for the first time, and I loved hearing all the different languages, accents, and cultures being represented. There were about 2300 people taking part, including cross-pollinators from other projects who were impressed by what they experienced at DrupalCon. Sessions were well-attended, with standing room only for many of them. Room in popular sessions, like that of our own John Ferris, was at a premium.
Spending time with the Drupal Association Board on this trip was also amazing. I am nearly halfway through my two-year appointment on the Board. Between 2006 and now, the Association has morphed from a small organization that could act as a legal entity for the Cons to a mission-driven organization that supports the Drupal project in a myriad of ways.
The Board retreat in Amsterdam was extraordinarily productive. The Association staff has recently been enhanced with an amazing technical team. We took positive steps toward enhancing the user experience for the Drupal.org Git repository with features like inline editing. We also discussed ways of diversifying Association activities while working through strategies for future Drupal events.
The Association is becoming the mid-level nonprofit that it needs to be, moving toward a level of maturity that supports the Drupal project tangibly and productively. I'm proud of the work and am fortunate that Aten supports my participation as a board member.
Back to the Con. For me, one of the highlights of the Con was Cory Doctorow's keynote. Doctorow wove a plausible dystopia — one that is actually happening right now — that could profoundly affect our freedom. His premise: computers are part of every aspect of our lives, ranging from our houses becoming giant computer cases that we live in, to smart limbs, hearing aids and cars. Many (if not most) of these systems are being built as closed platforms, not using Free Open Source Software. Laws from around the world potentially make it illegal to report bugs that are found.
This cloak hiding how software works is designed to protect corporations. Imagine self-driving cars that can be pulled over by a simple override, or smart thermostats that are able to shut off your heat or cooling because you have a dissenting opinion of the government. Now imagine how that could extend to smart medical devices like hearing aids, limbs, or pacemakers. The possibility for abuse, particularly if we cannot even begin to look at where there might be security holes in the software that runs these devices. Open software allows these kinds of issues to be exposed and resolved quickly. Doctorow tried hard to instill a sense of urgency in the crowd — insisting that we need to stop legislators from supporting software that is private, locked, and illegal to peek at. The reaction in the audience was outrage. I think that Donna, a fellow Association board member, said it best in a series of tweets which culminated with this:
Even more angry now. #DrupalCon #DCDoctorow it's all just so hateful.

— kattekrab (@kattekrab) October 1, 2014
Drupal is Free and Open-Source Software, and the Drupal community is just as open and welcoming. The pleasure of working with such collaborative group of friendly, intelligent, and fun people keeps me coming back. Thank you Drupal community for such a productive and fun week. I'm looking forward to the next time!
Drupal
Events