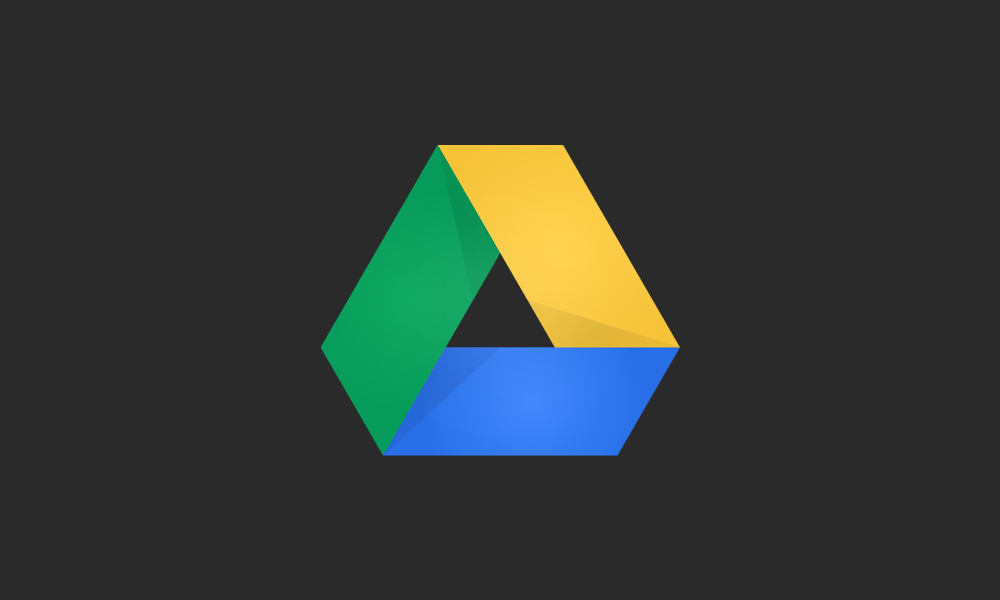 We work with a wide range of organizations, from those who have never been involved in a web project to those who are seasoned experts at the process. We recognize that everyone—regardless of their experience—has skills, knowledge and perspective to contribute to the project. So it's imperative to hear from everyone throughout the process. Here at Aten, we use Google Apps to encourage collaboration from all parties, including key stakeholders on the client team. We introduce the team to Google Apps during the strategy phase, and we work hard to make sure clients understand how we'll use each application to accomplish specific project goals.
Google Drive is a file storage system that automatically syncs documents, spreadsheets, pictures and more to all your devices. Its key feature is the ability to collaborate on documents in real time.
We create a number of our information architecture documents using Drive. We mostly use Google Docs and Sheets, but to make sure we cover all files, we have a template folder that we copy for each new project (to copy a full folder, you must connect Drive to a desktop computer).

Throughout the IA process, we update each template file with information relevant to the specific project. Using Google Drive allows two or more Aten employees to actively work on the project documents together. Since these documents steer the design, site building and development stages of the project, we encourage all Aten team members to get involved early. We want them to have full read and write access to all documents pertaining to the project, so we simply share the whole folder with those individuals assigned to the project.
We also share individual documents with key stakeholders on the client team. This means that they receive access to the document only when it's time to start collaborating. Instead of sharing it with individuals on the client side, we set the permission to "Anyone with the link can comment on the document."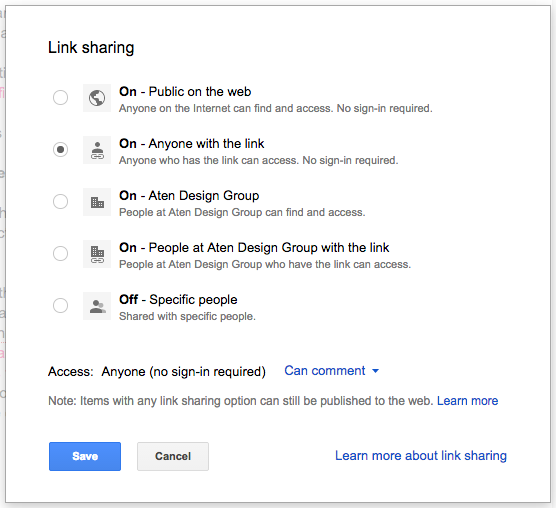 This option allows key stakeholders on the project to add comments and make suggestions in the full text area of Google Docs without needing an account. This is super helpful for keeping all feedback and ideas in one spot.
Commenting
It's really easy to add a comment in the document and gather responses to that comment from other collaborators. When you need a specific person's feedback, you can tag them in the comment using their email address. For example, a question specific to me can get tagged with @christine@atendesigngroup.com (if you're logged in to Google and the person is in your contacts list, it will even autocomplete the contact for you).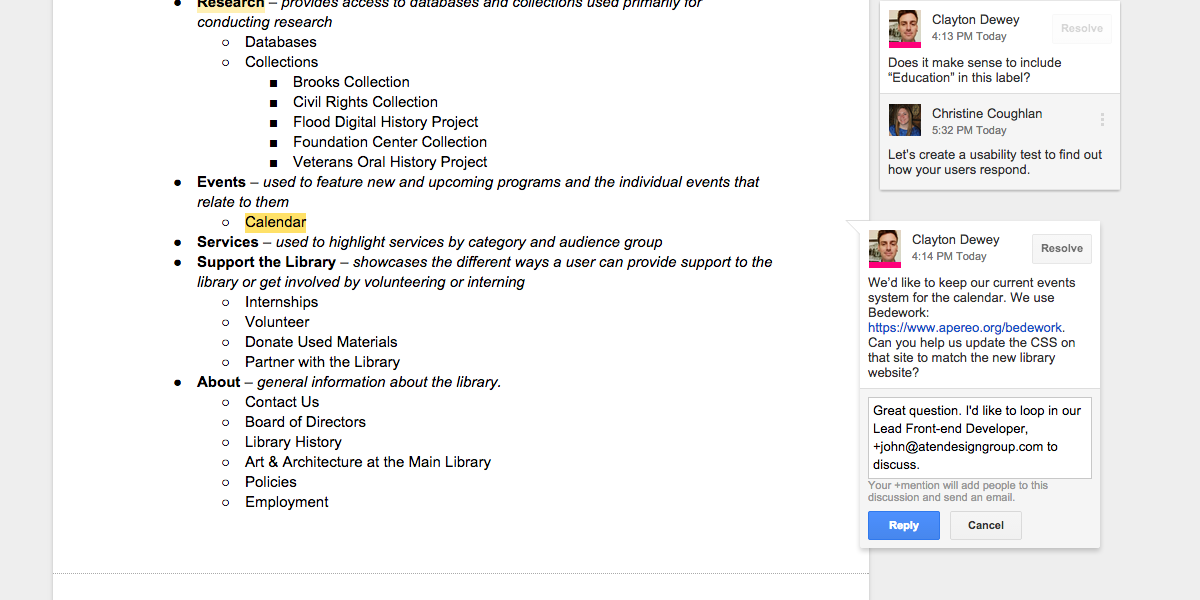 Suggesting
Since we encourage collaboration between all parties on our projects, we love the Suggesting option for edits on Google Docs. Key stakeholders can make a suggestion, but one of the owners of the document–an Aten employee–must approve the suggestion. This means that we don't miss any edits. We can easily advise our clients on best practices and hold discussions around the suggestion.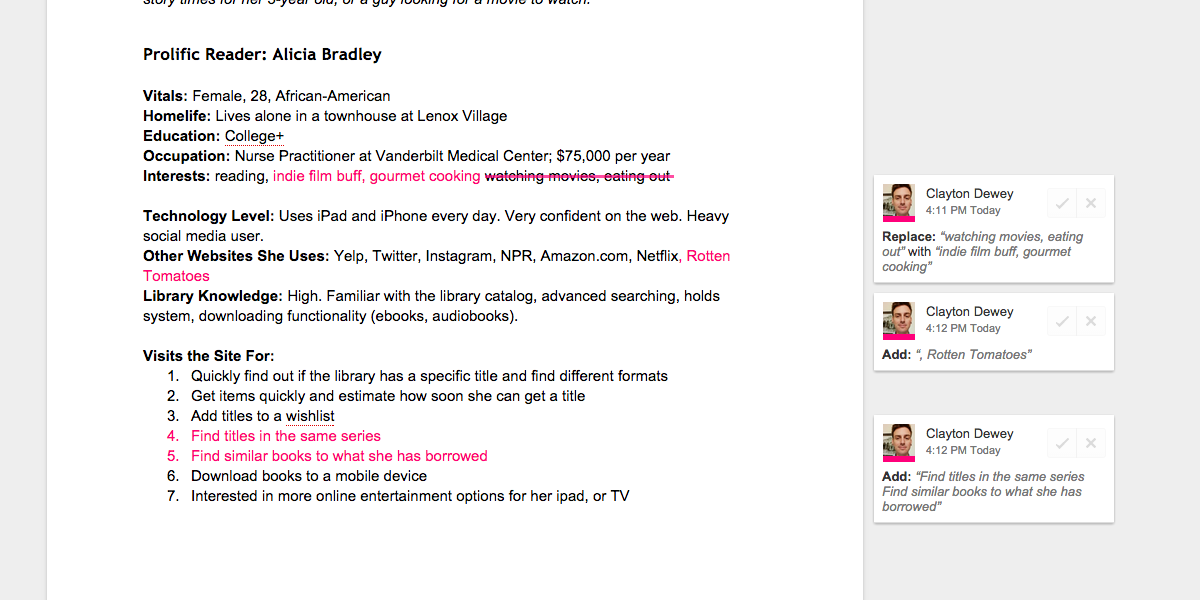 Revisions History
Sometimes we return to a document after a few days and can't remember why we added or edited a specific area in the way we did. Google is great about keeping track of those changes. Although comments and their response threads disappear when they're resolved, you can still read the full chain of replies. And with Google's revisions history, we can easily see who made what change based on the color coding. We can even revert to a previous version of the document.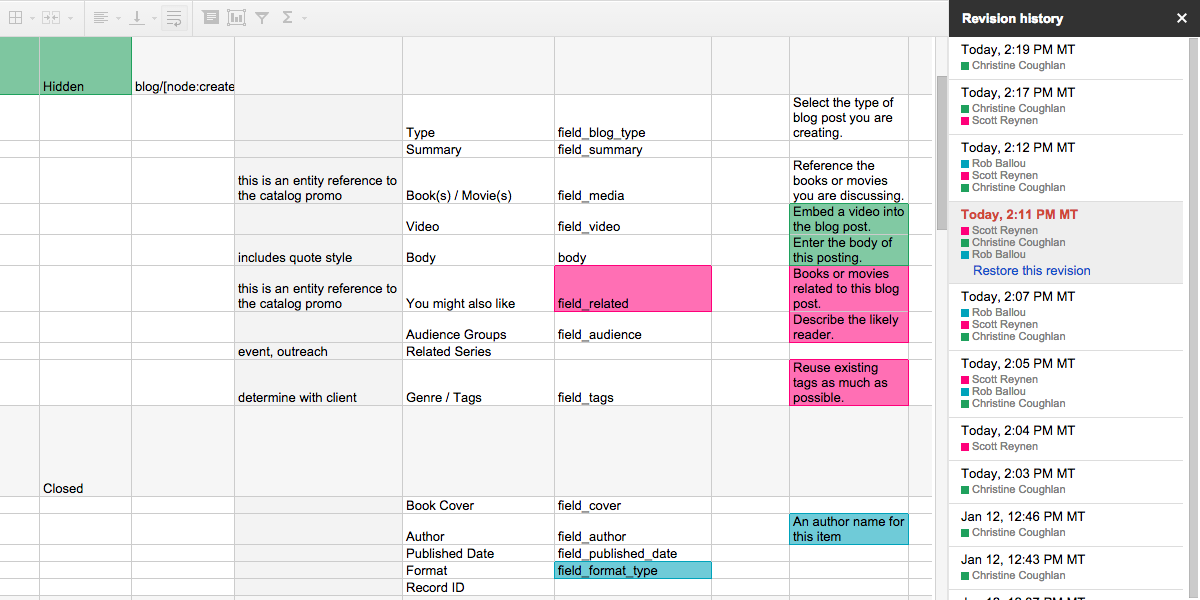 Content
Information Architecture
Process