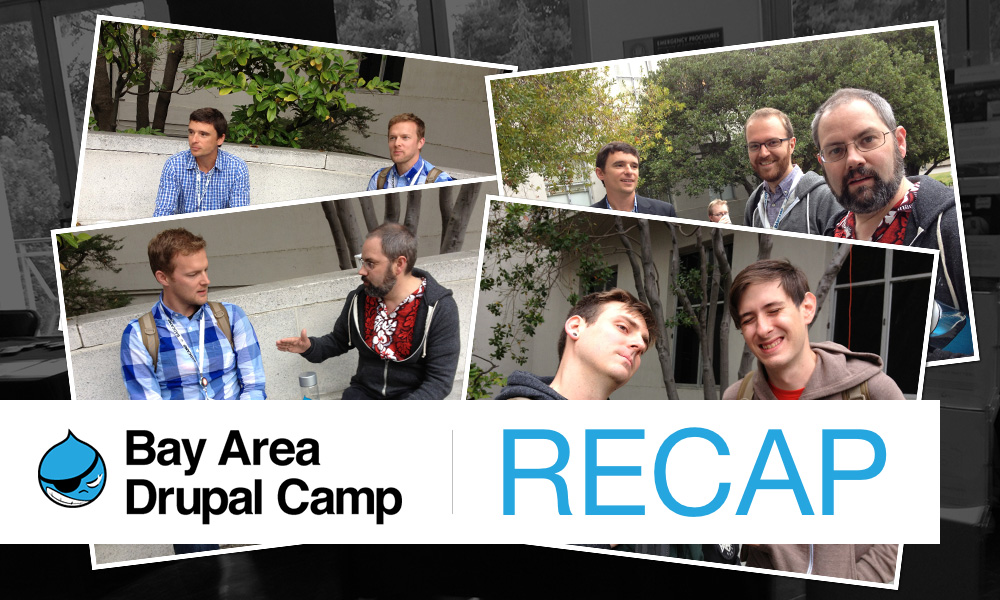 BADCamp 2013 was awesome! Seven Aten team members were present, participating in the Nonprofit Summit, Higher Education Summit and the weekend camp. We had a great time together, staying in a nearby mansion home, and a great time around Berkeley catching up with friends and colleagues. Team members Clayton, Joe and Matthew share their perspectives:
---
Clayton Dewey
Developer
It was exciting to meet and network with others in the Drupal community, both end users in non-profits and colleagues developing sites for others doing great work in the world. I loved the participatory nature of the event with many breakout sessions, Q&A time, and a wide offering of sessions. It was a blast presenting during the Lightning Round and some exciting collaboration is coming out of that presentation and the idea of "Atomizing" Open Aid. Berkeley itself has a great energy to it and it's fitting that an event like BADCamp take place in an area known for its creativity and strong history for social justice.
---
Joe Crespo
Developer
I really enjoyed giving a session on Drupal 7 module development. That said, aside from meeting a bunch of great people and collecting every free t-shirt the conference had to offer (I'm cheap!), the highlight for me was going to Backdrop and Drupal 8 sessions back-to-back. Backdrop will be everything you'll love to see in Drupal 8, but without the code complexity. Drupal 8 will fulfill all the promise of Backdrop, but without all the legacy code of Drupal 7. Both projects require refactoring all existing modules. So, no matter what camp you're in – Backdrop or Drupal 8 – both sides agree on one thing: I will have to write a new session for next year.
---
Matthew Saunders
VP of Project Management
I've been to a few BADCamps and it really is one of my favorite camps. Between an amazing meal with friends at Kiraku in Berkeley, meeting people I've missed since Drupalcon Portland, and giving talks, I had a terrific time.
I gave 3 two minute case studies:
I also talked on effective internal and external communication:
This was also my first official event as a Drupal Association board member and quite a few people sought me out. Your well wishes and thoughts on ways to improve the Association are welcome. Please feel free to contact me outside of events as well. I'm more than happy to hear your questions and concerns. My goal this year will be to help the association standardize on best practices for Board Governance.
---
I really enjoyed watching my Aten teammates engage with others at the camp. It's really exciting to hear authentic conversations happening amongst peers as they attack a problem together or creatively discuss a challenge they're facing. I work with some really smart people who truly care about what they're doing!
And now we're back in the office, sharing what we've learned and the stories we have from our weekend in Berkeley. Thanks to the Atennauts who made this such a great event for our team and the larger community; it's a pleasure working with you all!
Drupal
Events