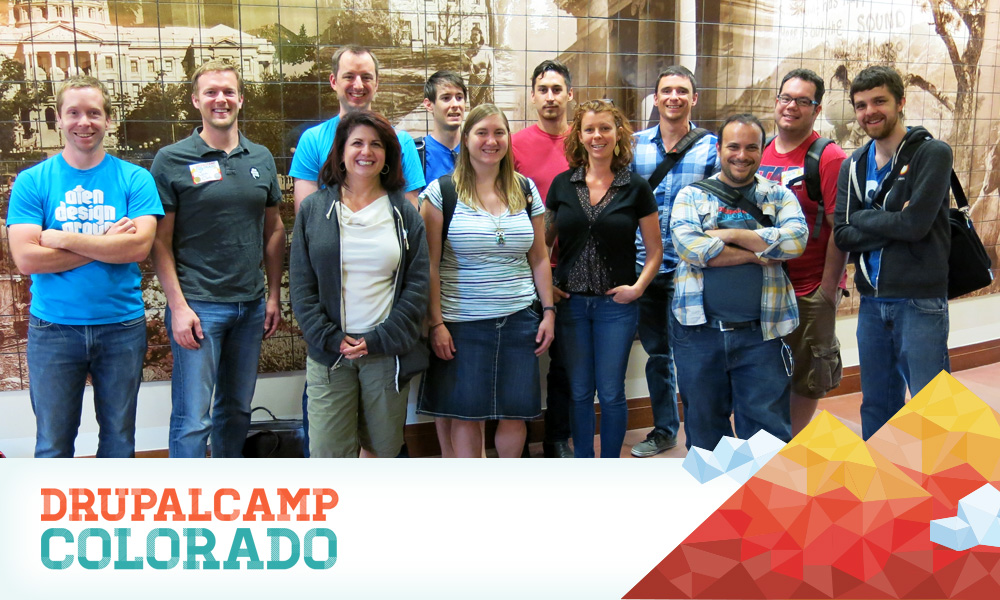 This past weekend, sixteen members of the Aten team attended DrupalCamp Colorado in Boulder. As always, it was a blast to have so many of us together presenting, learning and having fun. In the past few months we have had several talented and much-needed additions to the Aten team. Our weekend in Boulder was the first Drupal event for some of our new hires, and the first Drupal event under the Aten flag for others. After a few days of settling back in the office, here's what Aten's newest members have to say about DrupalCamp Colorado 2013:
Matthew Saunders, Director of Client Services
Drupalcamp Colorado felt like a more intimate event this year than in previous years. The Law building on the CU Boulder campus was a lovely location for the event - with great restaurants close by, lots of shade and grass, and terrific meeting rooms. My personal favourite moments included c4rl's sifting through Drupal's commit log and greggles' observations on lean startups. I was happy to participate as a presenter on project management, communication, and process management. My slides are on Slideshare.
Christine Coughlan, Information Architect
I learned new skills while growing my network. As a new user of Drupal, I started DrupalCamp by attending the BuildAModule Mentored Training. It was a great opportunity to learn the basics of Drupal at a pace that worked for me. On Saturday and Sunday I expanded those skills by attending sessions focused on creating views and adding a unique theme to my project site. Lunch breaks were spent meeting new people and eating at a delicious Indian buffet. And we can't forget the Aten after party! Delicious beer partnered with relaxed conversations.
Nina McHale, Developer
The highlight of the day Saturday was coordinating a libraries BoF (birds of a feather) meeting. About a dozen library web types attended, including representation from Arapahoe Library District, Jefferson County Public Library, Denver Public Library, Boulder Public Library, and the University of Colorado Denver campus libraries at Auraria and Anschutz. There is a lot of frustration, yet also a lot of enthusiasm, for building library web sites in Drupal. We talked about our own challenges and ways in which we could support one another to coordinate Drupal development for libraries to make everyone's lives easier. For example, I asked, "If you could wish one library-specific Drupal module into existence, what would it be?" The answer: a module that schedules and displays library-related events, including booking rooms and equipment, for academic and public libraries. Easy enough, right?
Joe Crespo, Developer
This being my first DrupalCamp, I have no basis for comparison, so I think it's fair to say without hyperbole that this was the BEST DrupalCamp in history. I really enjoyed presenting my first session on beginning module development; slides on Slideshare. The keynote and sessions were informative and inspirational; chatting with both new and seasoned Drupalistas in the hallways, at lunch, and at the after-parties was both fun and educational--"funducational"?
I think Joe wraps it up nicely: DrupalCamp Colorado 2013 was funducational! We're excited to have new members of the team growing their professional knowledge and connection to the Drupal Community. l am grateful to see the quality of our work and process grow as we grow in number and continue to do excellent work for groups doing good around the world.
Drupal
Drupal Planet
Events