The City of Boulder has a unique brand.
A mecca for startups, and a gateway to adventure in the Rocky Mountains, the city stands out as an iconic destination in Colorado. For its citizens, the City of Boulder is committed to creating and sustaining an exceptional quality of life through fantastic customer service and a strong focus on equity.
The City of Boulder provides governance and utility services, recreation information, relevant news, and the tools and resources necessary to get involved with local government. Website content and functionality are managed by a broad team spanning more than thirty departments and divisions. Audiences include a similarly wide collection of users like residents, city employees, prospective residents, visitors, and community members engaged with local government.
Aten worked with the City of Boulder to re-organize their many services and detailed how-to information into a task-oriented, user-centered, visually stunning digital experience. A sweeping granular permissions system allows flexible configuration of individual, departmental, or custom administrative access, facilitating intuitive, distributed content management.
Key Challenges
Input from a diverse team across nearly thirty departments — each with their own project priorities and aspirations — needed to be carefully organized and considered to ensure we built the right thing for all of the City of Boulder's various stakeholders.
A wide selection of government services, governance news and information, and citizen task-related how-tos had to be dead simple to find — breaking away from a counterintuitive legacy organization schema based on departmental structure.
Content management needed to be granularly distributed across twenty-eight distinct departments, each responsible for their own landing pages, services, articles, news, events and more.
The Solution
From a round table thirty-person project kickoff through stakeholder surveys and core team identification, to launching and user testing a beta site — every step of the process examined a wide array of perspectives to guarantee the finished product served each unique audience.
Content and services were reimagined with a users first approach that built empathy with audiences and drove to the core motivation of each website visit. Services, news, calendar events, and more put the user in the driver seat with dead simple navigation and advanced search functionality.
A custom content permissions solution allows department managers to easily add or remove users from their teams, granting them configurable access to edit department content. The resulting permissions network intelligently distributes content management across nearly a hundred users.
Stunning, modern design
The City of Boulder website design strikes a balance between the outdoor-centric lifestyle and effective governance with bold imagery and generous patterns and textures that draw users into high value interactions. The result is a task-oriented, modern, stunning look & feel that pushes usability and accessibility to the forefront.
Distributed content management
A custom solution extends Drupal's flexible and granular role based permissions system, granting just the right access to nearly a hundred content editors based on their departmental affiliation. Department administrators can easily add or remove users from their teams, resulting in simple, effective, content management organically distributed across more than two dozen departments.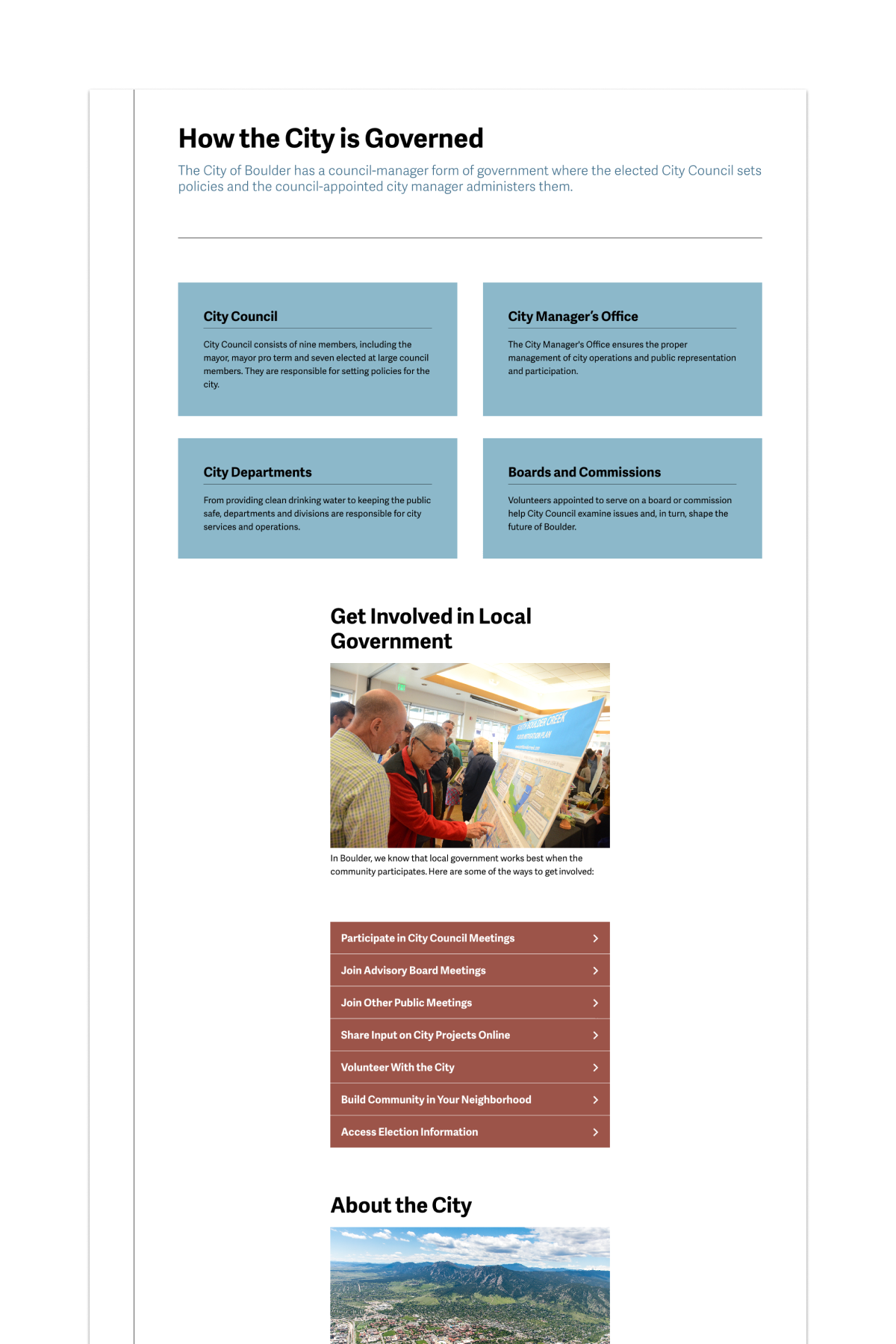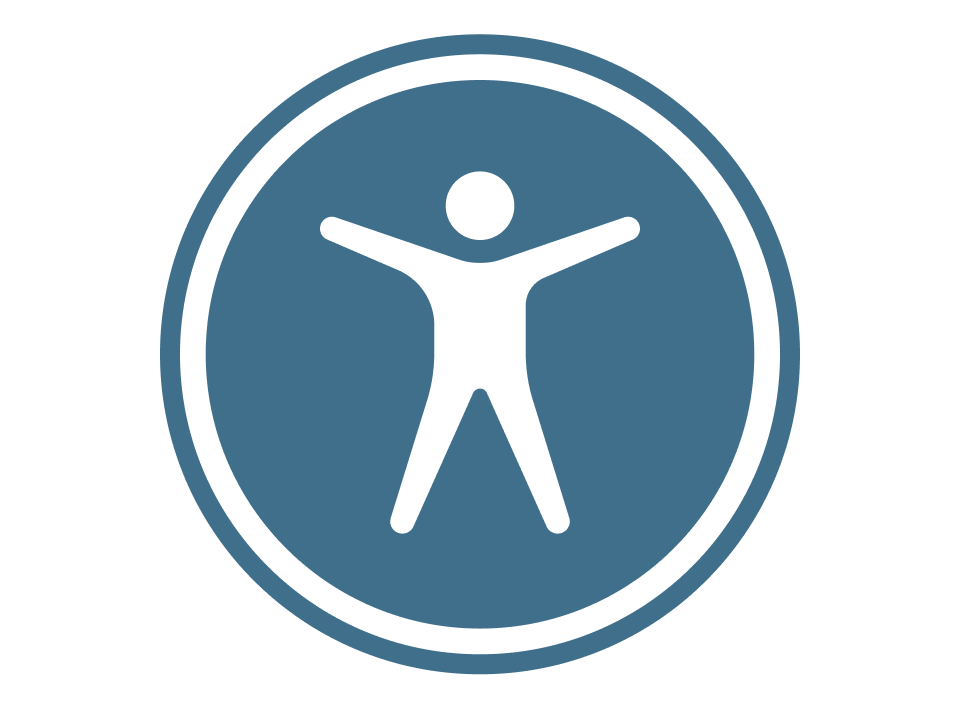 Accessibility
Accessibility is center-stage for the new City of Boulder website. Keyboard navigation is natural and intuitive throughout the site, color palettes are contrast tested, and navigation is clearly presented with concise, descriptive links. Accessibility testing was conducted after every major phase of the project, and accessibility training for content editors promotes the proper use of alternative text, semantic content structure, and descriptive inline links.

Task oriented
From paying a utility bill, to applying for a business license, to finding the perfect trail for a Sunday afternoon — the new City of Boulder website puts users' needs before everything else. Services are organized under easy-to-understand I want to… statements and supported by an advanced search function; governance events are clearly organized on a filterable calendar; and trails & trailheads are searchable, supported by excellent imagery, and integrated with the Open Space and Mountain Parks (OSMP) back-end to automatically update trail closures.

The new City of Boulder website features Mercury Editor, an effortless, drag-and-drop content editing experience that redefines publishing with Drupal. A fluid, intuitive interface lets content authors publish engaging, media-rich pages in minutes — and lets them see their content shape up in real time without relying on endless edit and preview cycles. Arranging images, videos, slideshows and more across flexible, robust layouts is a snap.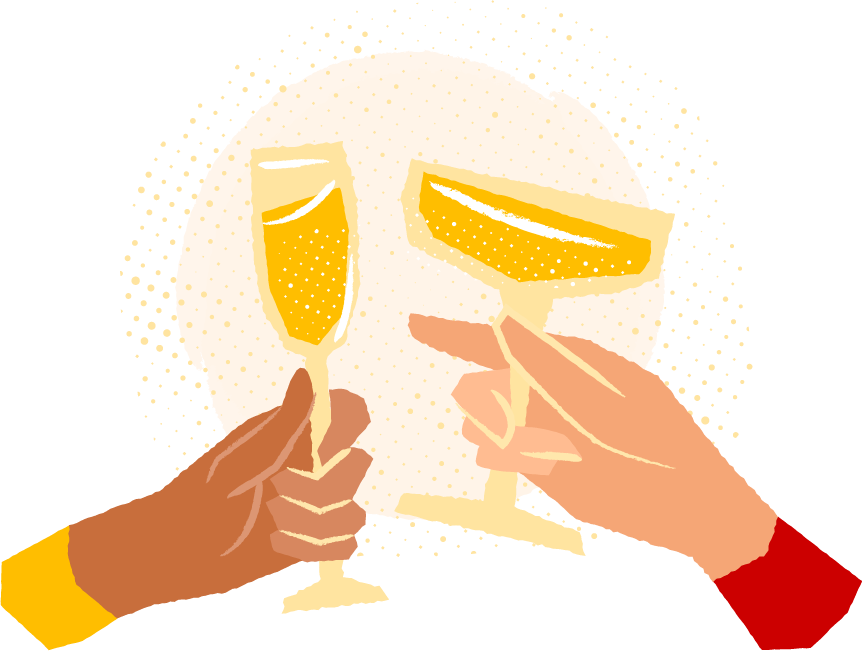 Want to see more?
Schedule a 30 minute call to learn how the right partners can help you achieve your digital goals.