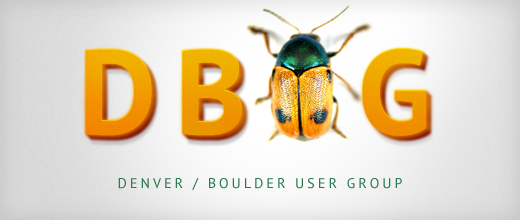 The September Denver Drupal meetup kicked off with the usual pizza and beer, followed by a special birthday cake for Jon.
After some celebration and introductions by everyone in attendance, Jason encouraged everyone to get involved in the Colorado Drupal community by presenting the DBUG page on groups.drupal.org and giving a quick demo of how to connect to the #drupal-colorado IRC channel. The DBUG page is an excellent place to post questions, find answers and even search for a local Drupal job. For more immediate drupal help, IRC is a good resource. You can find IRC instructions on drupal.org or for Firefox users, get the Chatzilla add-on, then click the link to #drupal-colorado.
The Denver Drupal community is, like most open source communities, very open to input and feedback. As the community grows, we like to hear from new members, so Scott led a discussion to help plan for future DBUG meetings. The Denver meetup is in a television studio at Denver Open Media and in planning for future meetings, we are considering broadcasting live on local TV.
Greg presented a feature set he recently created for Enterprise Project Management. Often enterprise level drupal sites have business and security requirements regarding what modules can and cannot be installed. EPM is a tool that allows you to track information about the modules you've installed and are under consideration. After you've installed EPM, you can create new EPM nodes for each module you want to track (using the drupal.org project short name). EPM will then provide all of the module maintainer information, open and closed issue counts and other information to you in one place.
Justin presented a case study of allamericangames.tv, which features the Blue Droplet Video module, Storage API module and FFMPEG. While there are many video related modules for Drupal, Blue Droplet Video distinguishes itself by not only helping with video uploads and playing, but by integrating with a number of other popular and useful modules. In the case of allamericangames.tv, Blue Droplet Video's integration with Storage API allowed the site to host all of the video on Amazon's S3 service. That greatly reduced the load on allamericangames.tv's server and provided better video streaming service to users. Storage API frees you from Drupal's storage system, letting you store and serve files from a number of services (which it calls "containers"). Storage API also allows you to create "classes" so you can specify which types of files are stored on and served from specific containers. Allamericangames.tv also uses FFMPEG to transcode all the video on the server, allowing users to ignore the technical aspects of video encoding and greatly simplifying the user experience.
The meeting ended with Dano asking for web hosting suggestions. Drupal.org has a list of suggested hosts, but the Denver Drupal community has a lot of experience, both good and bad, with hosts and a short list of the ones we like. Some of the hosts that were suggested are: Advomatic, Slicehost, Linode, Dreamhost and Blackmesh. When considering a host, everyone suggested choosing a Virtual Private Server (VPS) instead of shared hosting. Shared hosting services often have limitations that can slow or even crash your Drupal site. You should also consider how much time and experience you have with server administration when choosing a VPS host. VPS hosting is typically either "managed," meaning that the host company performs much of the server maintenance and setup for you, or "unmanaged," which means you do all of the maintenance and setup yourself.
You can keep up to date on the latest Denver Drupal meetups and community activity at the DBUG groups page. And we hope to see you at the next Denver Drupal Meetup!
Drupal Planet
Events