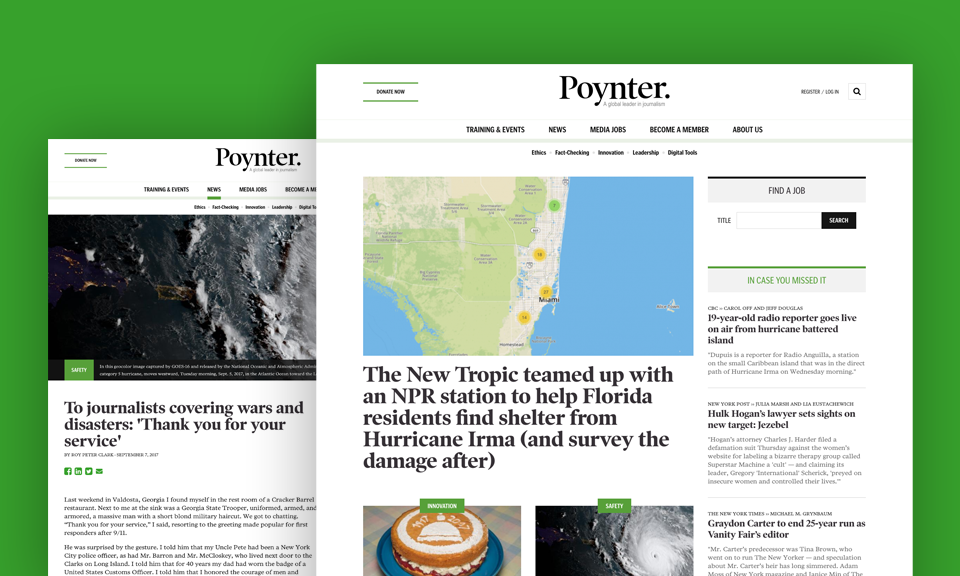 The Poynter Institute is a global leader in journalism. Their modern, principled and dedicated newsroom has produced more than 70,000 articles across a variety of contemporary and relevant topics since the turn of the century. Poynter doesn't stop at engaging a large (and growing) audience that's invested in thorough coverage of today's media issues — in fact that's just the beginning.
Above all, Poynter is a journalism training institute. Their detail oriented, on-topic news engages up-and-coming journalists, as well as veterans in the industry, and draws them into the world of top-tier journalism training. Poynter hosts week-long seminars, in person workshops, public events and a robust selection of online live and self-directed courses. Through these offerings, the non-profit school teaches leadership, ethical decision-making, narrative storytelling and fact-checking as they apply to writing, editing, reporting and digital media skills.
Aten worked with Poynter to rebuild their website, Poynter.org, on Drupal 8. Our teams collaborated to unite the content and functionality of multiple legacy properties spanning various CMSs including Drupal 6 and WordPress.
The new Poynter.org makes publishing excellent content a breeze. It's fast-loading, beautifully designed, and optimized for a seamless experience across all devices. Noteworthy features include easy-to-use manual content promotion with automated fallbacks, customizable topic pages, automated author pages and LMS integration that surfaces journalism training opportunities and Poynter events.
From a technical perspective, there's plenty about the new Poynter.org that's boast-worthy:
Content migration of more than 70K articles written by 1000+ authors. Tags, categories, authors and images from two separate CMSs using two separate authoring styles (Markdown & WordPress WYSIWYG). Automated redirects and live launch-day monitoring. Worried about 404s? Don't be.

An authoring experience that shines. Does moving away from the simplicity of a WordPress publishing platform make you nervous? It shouldn't. The Poynter.org Drupal 8 authoring experience combines an intuitive, familiar WYSIWYG with easy-to-use custom features like multiple author credits, manually curated call-outs for related training, articles, or events, and category or tag based automated cross-promotion that seats your article in a living content ecosystem that drives users to multi-page interactions. Neat, right?

Seamless LMS integration. Training opportunities, events and e-learning courses (in some cases synchronized via 3rd party API) are intelligently peppered throughout Poynter's content. Want to promote a specific event from your article? There's a simple interface for that. Prefer to let Poynter.org decide what to promote? Automated fallbacks have you covered.

Spot-on responsive behaviors. Ads and paid-training promotions are an integral part of Poynter's business model. With call-outs injected into article content and a robust ecosystem of ad inventories across headers, footers, sidebars and more, you might think that the Poynter.org mobile experience would have a hard time shining. It doesn't. Intelligent breakpoints, elegant reorganization of content areas and shifting ad spaces mean ads and content play nice on any device.
Poynter.org isn't done reimagining itself. Post-launch improvements are slated to introduce deep CRM integration, a beautifully on-brand Media Jobs search engine, a more robust integration with Poynter's e-learning hub News University, granular per-page ad inventory management and much, much more. Stay tuned.
Site Launch