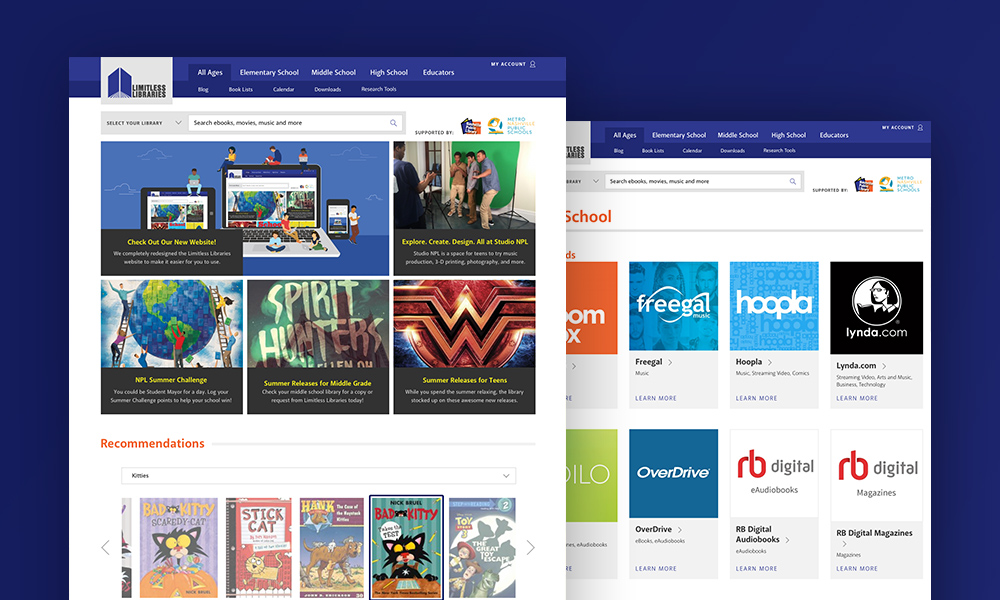 Bridging the Gap Between School and City Libraries
Last week we helped Nashville Public Library (NPL) relaunch www.limitlesslibraries.org, the latest project in a multi-year collaboration between Aten and NPL.
Limitless Libraries increases student access to materials by bringing together the NPL and Metro Public School system catalogs, enabling students to reserve, borrow or download from a single website. Together, we sought to enhance the user experience by reimagining the primary navigation, segmenting content based on grade level and improving catalog search capabilities. The upgraded navigation was topped off with a refreshed look and feel to more closely align with the NPL and Metro Nashville School system online ecosystems.
Also worth noting, Nashville Public Library was recently crowned Library of the Year by the Library Journal, recognizing the "scope of its programs, services, and collections; the incredible reach of its efforts in cooperation with other public agencies, departments, and local businesses."
We're excited to launch Limitless Libraries right on time for returning students to have even greater access to library materials. We can't wait to see what comes next.
Digital Project Management
Drupal
Drupal 8
Education
Site Launch