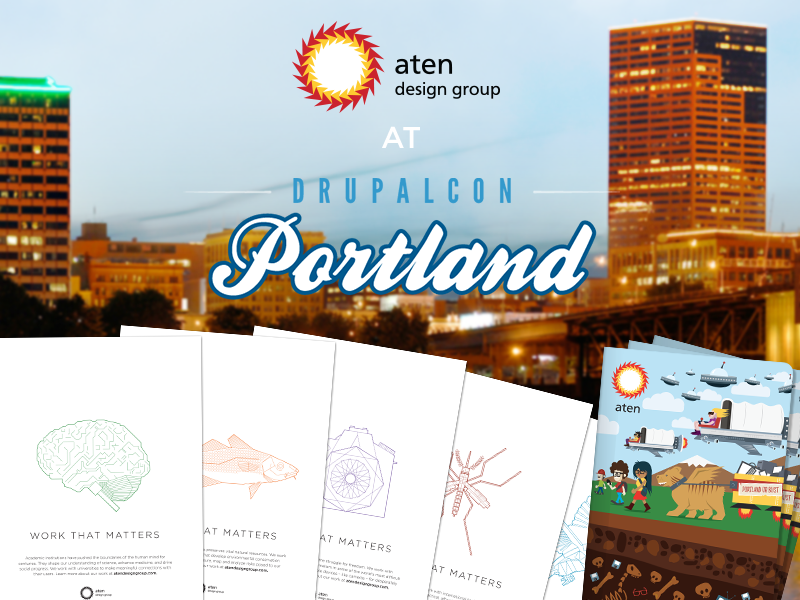 It's that time of year again—time for [DrupalCon](http://portland2013.drupal.org/). Aten Design Group is headed to Portland and proud to sponsor what is expected to be the largest DrupalCon ever.
Our team is once again involved in many ways, including speaking, content selection and sponsoring after hours events. We're also bringing our latest event-themed sketchbook and brand new "Work That Matters" posters hot off the press, so don't forget to come by the Aten booth (#235) to pick some up for yourself.
Start off the week by having fun, meeting interesting people and doing some good at the DoGooders Happy Hour on Monday at 4 PM. We will be getting together with other Drupal community members to benefit one of the community's long-time contributors, Aaron Winborn who has been battling late stage ALS.
After a Tuesday full of sessions, the Opening Reception at 5:30 PM is a perfect time to get a sketchbook and poster at the Aten booth. Then head over to the Women in Drupal Reception at 6 PM, which we are thrilled to support.
On Wednesday at 1 PM, check out Karyn, Scott and the rest of their panel present Making Drupal Meetups & Events Rock in room C123 (Trellon). Then stick around for our lightning talk at 4:15 PM on the Day Stage, Planning and Executing Multiple Projects for Maximum Efficiency and Amazing Results. Justin and I promise to keep it short and sweet.
We've got sessions lined up for Thursday too. Ken will be presenting Design Smarter, Not Harder at 1 PM in OR 203 (Palantir) directly folowed by John and Garrett's session, Dapper Drupal - Custom Tailored Themes at 2:15 PM in OR 201 (Phase2).
In true DrupalCon fashion, we'll be sprinting, sprinting, sprinting on Friday. Karyn and others will be mentoring people new to contribution sprints, so everyone can come join the fun.
Drupal
Drupal Planet
Events