LEARN. CREATE. SHARE.
Richland is a 21st-century public library. It offers state-of-the-art computer labs, recording studios and meeting spaces; broad access to media and information; and a huge range of programs for its customers. The events it hosts are a vital, cherished community resource. It provides everything from resume guidance to flu shots with diverse programming throughout the Midlands in South Carolina.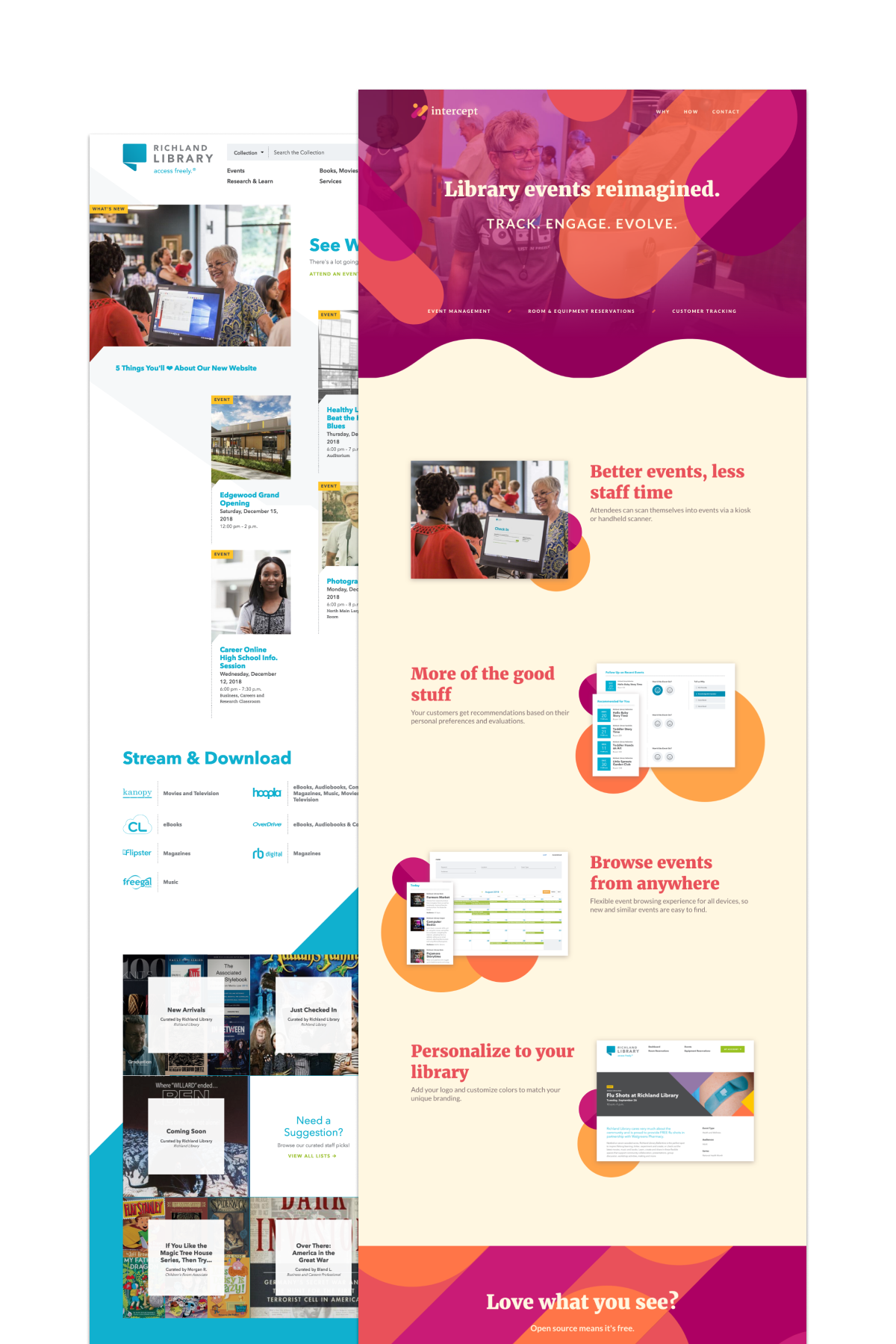 Two Connected Products: Website + Event Management
Richland Library had a unique, two-part challenge: first, to completely rebuild their public facing website; second, to build an open source event management product both for their own use and for use by other libraries.
Key Challenges
With so many ways for users to interact with the library's website, the online experience had grown fragmented. Ineffective technology and design was hampering engagement. Richland needed to build a unified, seamless experience.
The library had experimented with a "Bento-box" style search, but found it to be less effective than they had hoped. Richland needed a powerful – and simple – search experience to help users quickly find what they are looking for, regardless of which 3rd-party system the data may be stored in.
The library needed more data about customer participation and engagement for its events. Richland needed to develop an event management system to track customer participation and engagement, providing actionable data for improving the library's programs and events.
The Solution
We designed a digital experience – or digital branch, as Richland considered it – inspired by the bright, modern atmosphere of Richland's physical locations. Bold, clear navigation provides access to the library's depth of resources. Striking design extends Richland's recently reimagined visual branding.
We built a powerful, interconnected search capability that integrates with 3rd-party APIs, visually organizing data from multiple sources into sensible results for the user.
We developed Intercept: a standalone open source event management product that could be fully integrated into Richland and other library websites. Intercept provides a full suite of event management features, with special focus on participation and engagement tracking.
Discovery & Stakeholder Engagement
We love helping clients with discovery, navigating the diverse needs of broad stakeholder groups. By the time we began working with Richland, they had already gathered data from years of performing usability tests and gathering requirements. Building from that background, we ran a series of workshops onsite and spent time observing in various library branches. The work of effectively engaging stakeholders didn't end with onsite meetings. We involved Richland's stakeholders at key intervals throughout the project, ensuring we clearly understood their diverse viewpoints in ways that were actionable and directly contributed to the project's goals.
Inspired by Innovation
For the design of the site, we channelled the bright, innovative atmosphere of Richland Library's physical locations. We created a flexible, bold design that showcases a wide range of content with Richland's branding.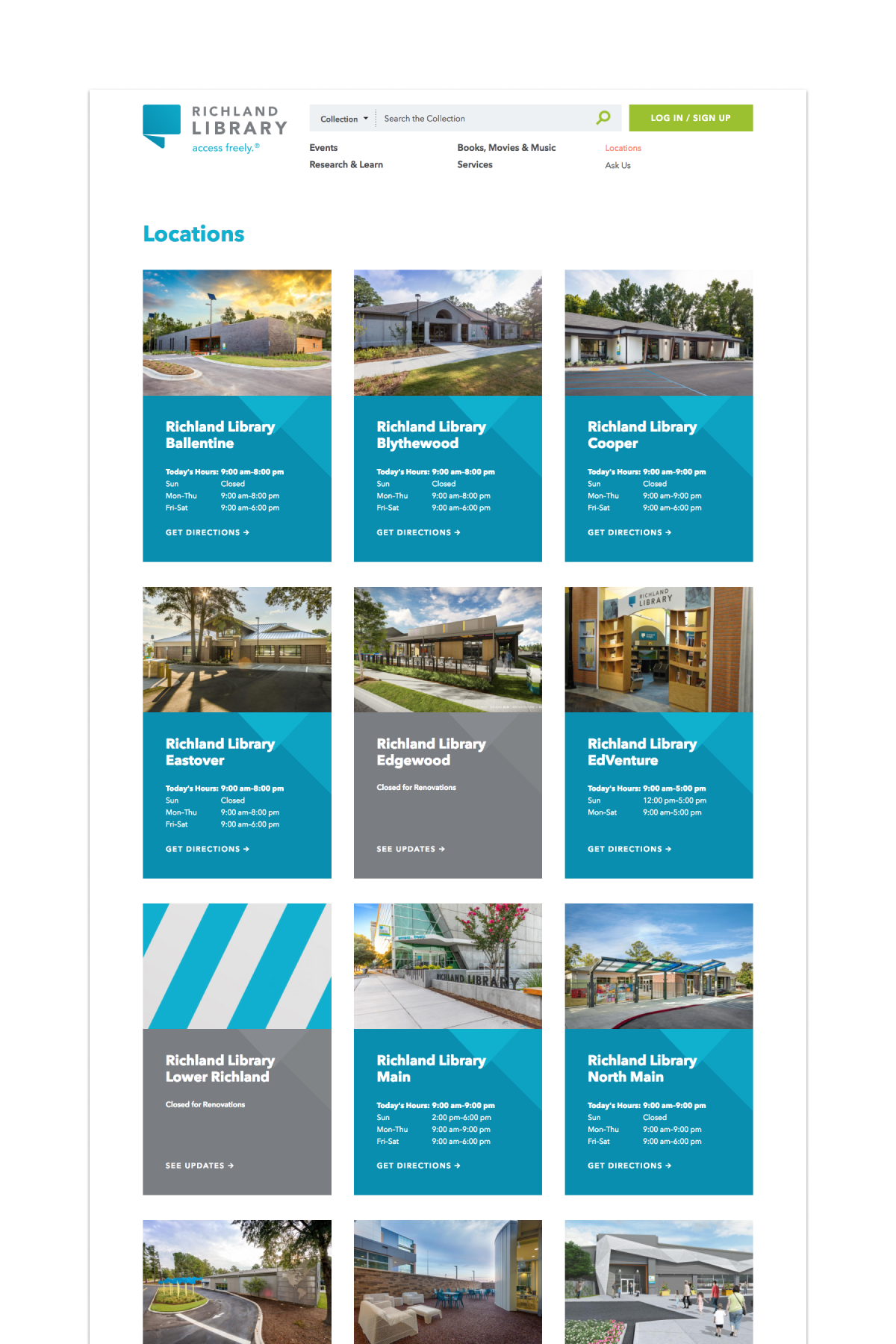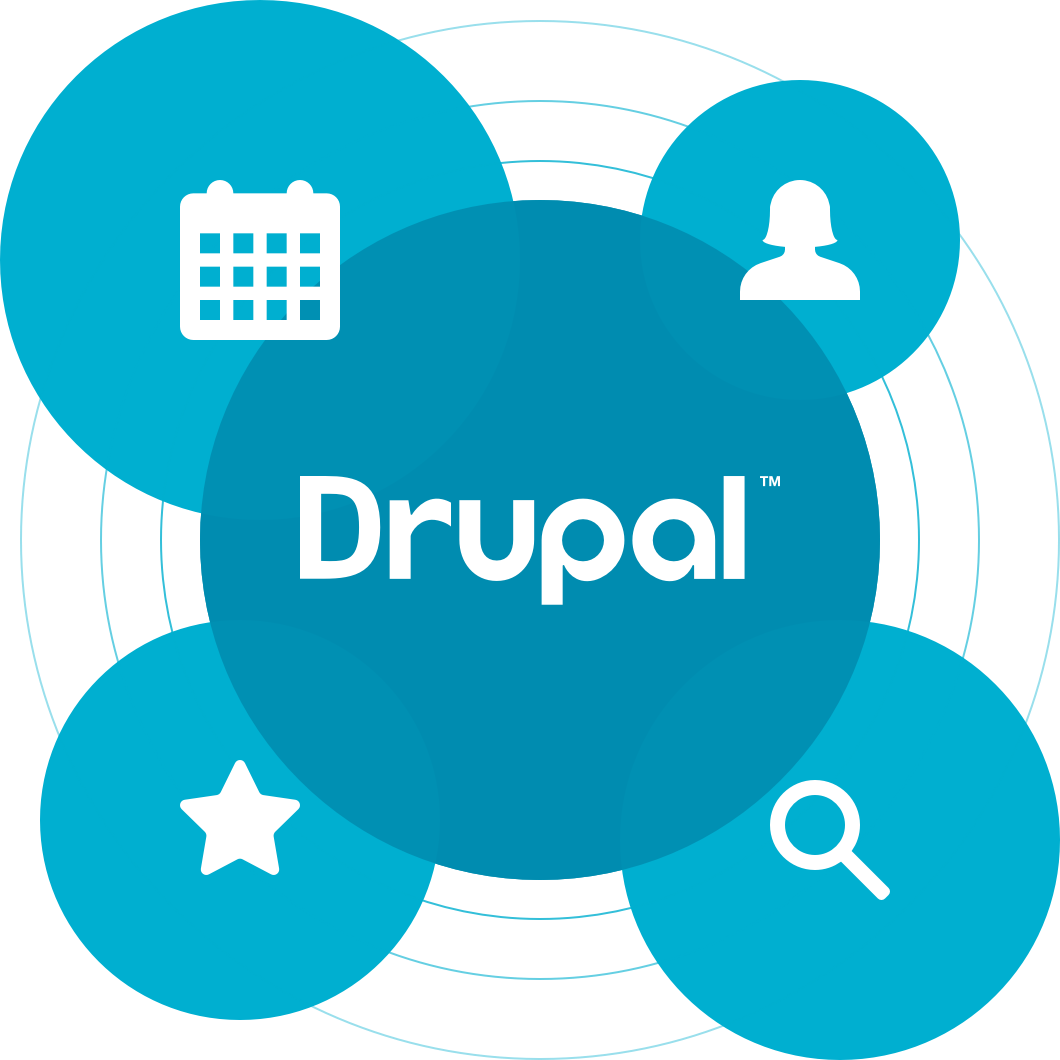 Built with Drupal 8
Drupal 8 meets a critical need for modern libraries, offering a powerful toolkit for connecting various services – like integrated library systems – by leveraging APIs. From integrating catalog search and events management to letting users edit their own preferences and access smart content recommendations, Drupal 8 provides a solid foundation for meeting the needs of library customers. Further, Richland wanted to build an events management system that was reusable. Drupal's support for "distributions," an approach to packaging projects as installable products, was a perfect fit for Intercept. Top it off with the fact that Richland's staff already had experience with previous versions of the product, Drupal 8 was an obvious choice.
Next-Generation Events Management
Richland wanted a way to measure the impact of their programming so they could leverage data to improve events and further strengthen their offering to customers and the wider community. Together we built Intercept, an open source events management product for libraries. Intercept provides a full range of event management and reporting features, and it's freely available for use by libraries.
Richland Library's data is stored in a number of different systems: an Integrated Library System (ILS), a digital collection management system, an events platform, multiple 3rd-party databases, and their own content management system (CMS). We wanted a simple, unified search experience to seamlessly bridge the gap between various systems. Leveraging third-party APIs, we built a solution that pulls content from multiple sources and interpolates results sensibly. The system integrates with Polaris, but is pluggable. We can easily swap out the API layer in the future, should they move to a different ILS.
Search results are grouped by title, clearly delineating available formats like physical book, downloadable audio book, or book on CD. A proactive cache keeps search running fast, especially for Richland's most popular content.
Learn about our approach to website search for libraries on the Aten blog.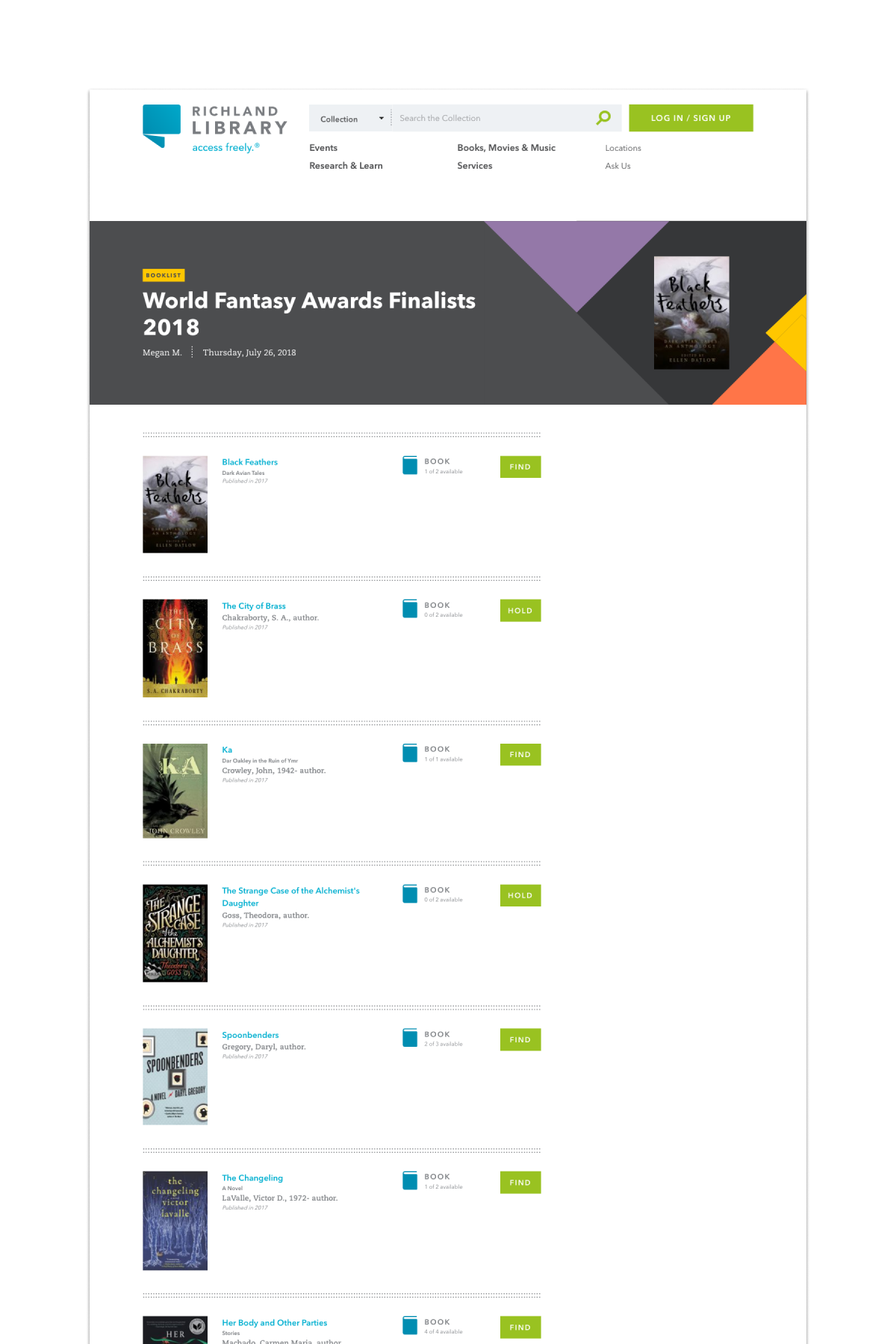 Custom Recommended Reading Lists
We leveraged third-party APIs to build tools for librarians to group and bookmark assets from Richland's ILS. Librarians can quickly build book lists from their catalog and embed them in pages and articles within the website, without having to use a separate system or change their current workflow.
They have the technical chops to get the job done, but the vision to make it beautiful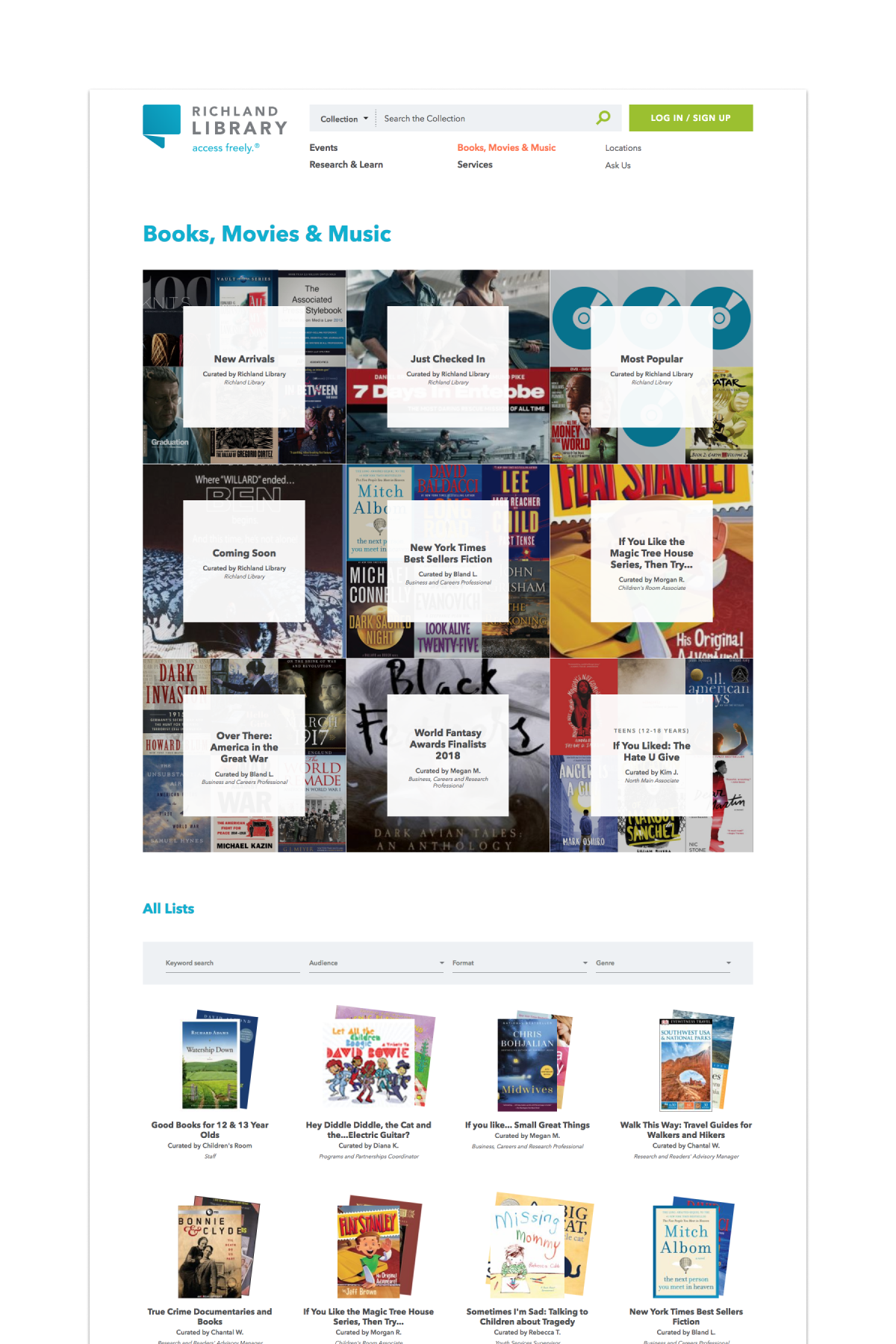 Looking Ahead
Richland's new website seamlessly integrates content from multiple sources into an effective engagement platform for its users. Intercept is already providing valuable data to drive strategic improvements for programming and events. We're working with the team at Richland to identify and prioritize new features for both products, with new releases already underway. We're thrilled with the results, and with the highly effective, collaborative partnership. We're excited to keep working with the team and push ongoing innovations that continue to bolster Richland Library's impact in its community.