Colorado Public Radio is an award-winning NPR member station providing in-depth news, classical and new music.
Founded in 1970, CPR is a critical news source for Coloradans and provides in-depth coverage on a broad range of issues – from politics and health care to education, culture and more. CPR has always been dedicated to providing classical music, and in 2011 launched OpenAir, featuring modern music focused specifically on Colorado artists.
In 2012, CPR challenged Aten to help wrangle three distinct media properties into a unified online experience, for every device. We were thrilled to be a part of the project and excited to work with another journalism client–particularly with such strong local focus and impact.
Diverse Stakeholder Needs
CPR's three media channels–News, Classical Music, and OpenAir–are supported by a passionate staff of expert reporters, producers and media professionals. We worked with stakeholders through a series of onsite workshops to help navigate diverse needs, architecting an experience that is intuitive, seamless and true to CPR's brand.
Persistent Audio Player
Effectively delivering audio to end users was critical to the CPR.org redesign. We worked with CPR to craft a solution that is seamless, persistent and context-aware, providing an uninterrupted listening experience as users navigate the website–on every modern device.
The audio player, like the rest of the CPR.org design, is responsive. It adapts to various display sizes, leveraging the unique qualities of each. For older browsers, the player degrades gracefully.
Built on Drupal 7, CPR.org leverages the Ajax Links API to provide an uninterrupted listening experience as users browse the website.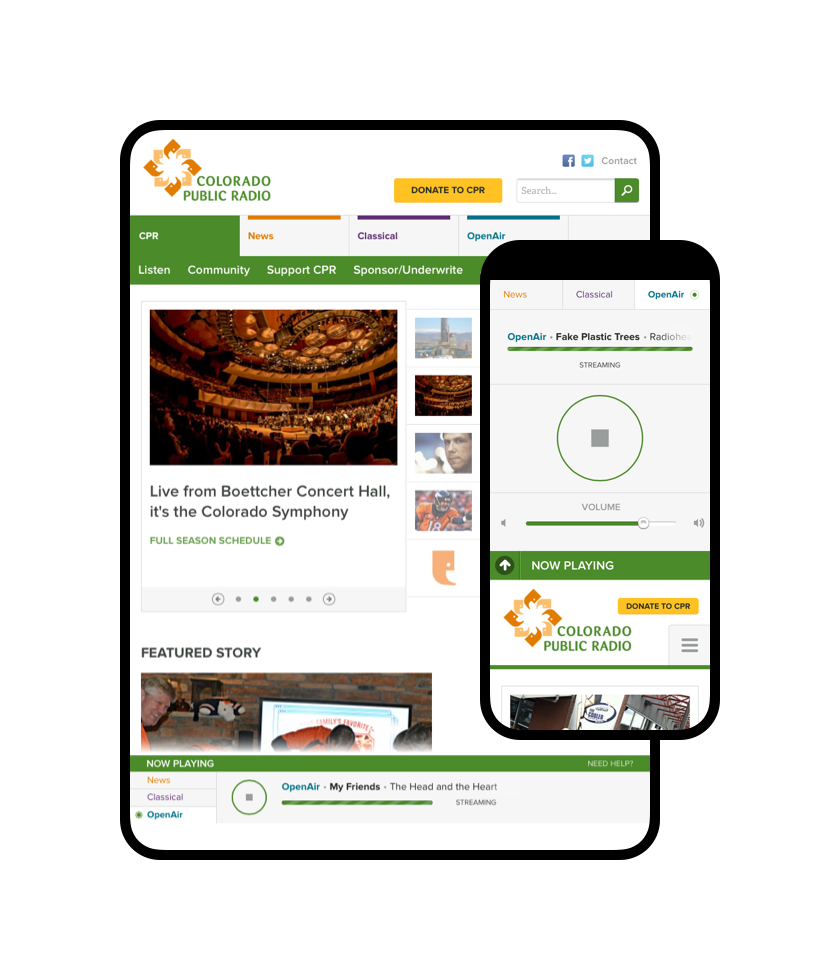 API Integrations for a Rich User Experience
We integrated multiple external systems via APIs to deliver sophisticated tools and real-time data, including:
Live stats during pledge drives for campaigns, challenges, sweepstakes and premiums
Information on "What's Playing Now" for online audio
Detailed, searchable audio playlists
Calendars
Display and pre-roll audio ads with impressions tracking
Content syndication from NPR.org
Designing the Interface
A central challenge for designing the new CPR.org was to create a design system that would extend to multiple distinct media offerings while strongly supporting a unified brand. The result is clear, bold and strikingly simple. Distinct colors within a comprehensive palette help orient users to specific channels within the website. An open design keeps content strongly in focus. The layout adapts gracefully at various breakpoints from mobile, to tablet, to desktop devices.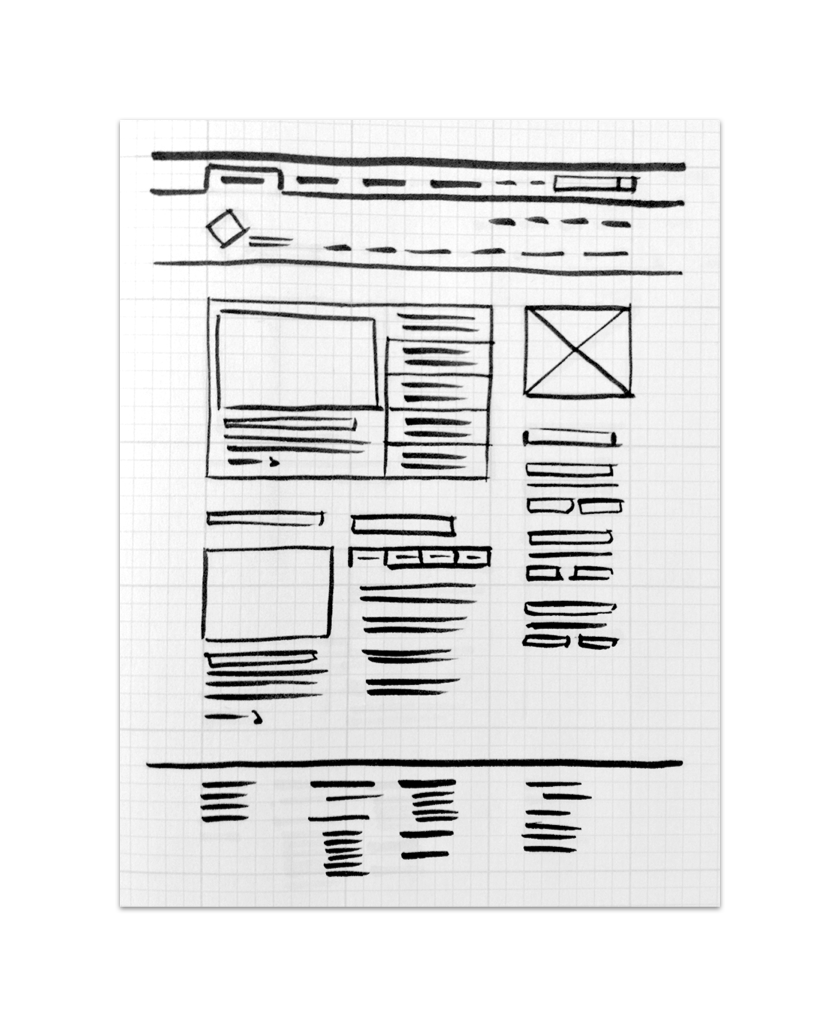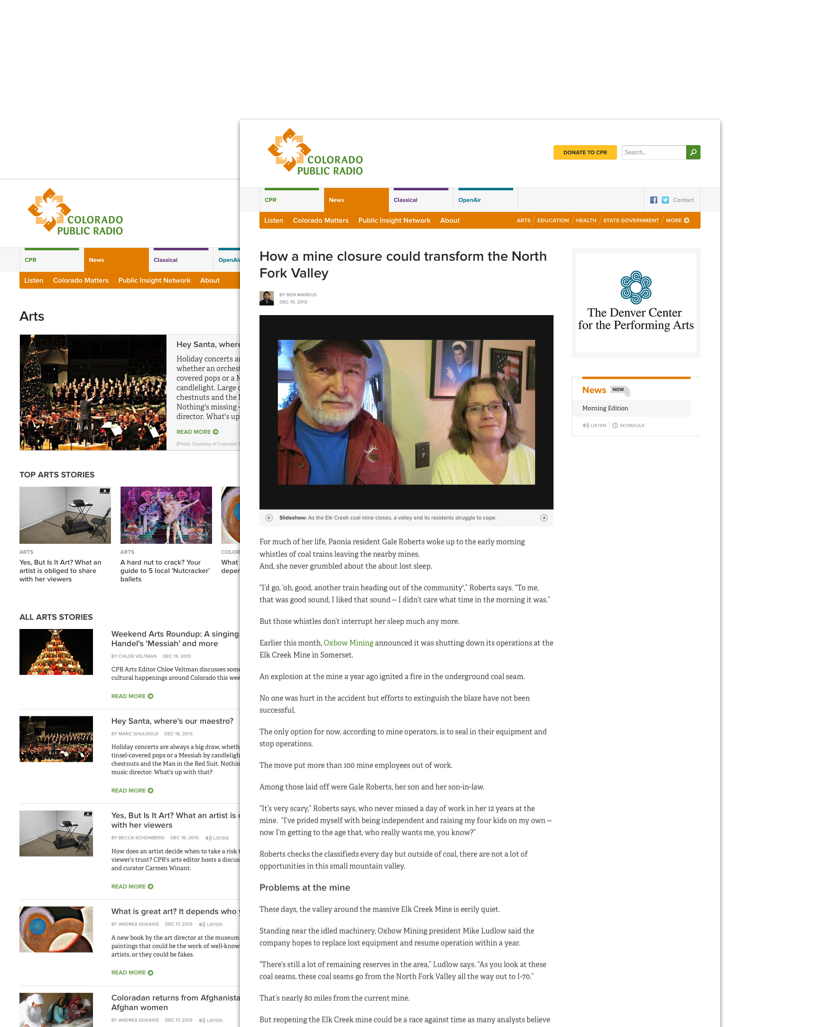 Streamlined Publishing
The website, built in Drupal 7, provides a powerful but drastically simplified authoring experience. Publishing workflows support the efforts of reporters and editors, with automation for processes like audio conversion to help further lighten the load.
Modernized Platform
Moving forward, CPR is well positioned to continue rolling out new enhancements and features for CPR.org. Stay tuned for more great features supporting rich storytelling, in-depth reporting and incredible music, for all devices.