ICTJ.org
The International Center for Transitional Justice
The International Center for Transitional Justice is a non-profit organization helping societies overcome legacies of past human rights abuses. In the aftermath of mass atrocity and repression, ICTJ provides societies with expertise and tools to uncover the truth, to achieve accountability of perpetrators and justice for victims, to develop reparations programs, and to prevent future human rights violations.
Visit ICTJ.org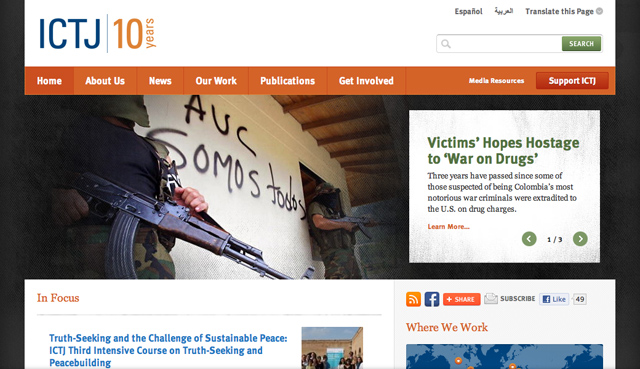 Aten worked with ICTJ to create a website that powerfully communicates the important role ICTJ plays in helping communities build just societies in the aftermath of conflict and repression; that offers efficient access to the wealth of research documents published by ICTJ; and that provides potential donors, the media, and researchers specific ways to engage with the organization.
Discovery & Information Architecture
The process began with conversations around goals, audience, and content. ICTJ had already been through a rigorous internal process to identify its audience, and provided a prioritized description for 7 distinct audience segments. This list guided design decisions throughout the process, provided structure around usability tests, and helped focus feedback for each deliverable along the way.
With a clear understanding of audience, we worked with ICTJ to inventory content for the website. From there, we created a site map and wireframes to organize navigation and define content strategy for high-level pages.
Designing for Impact
ICTJ works to help societies in transition address legacies of massive human rights violations and build civic trust in state institutions as protectors of human rights. The design had to powerfully communicate both the overwhelming importance of this work, as well the specific, critical roles played by ICTJ's work worldwide.
We went through several major iterations in the design process. We started with a concept featuring a muted backdrop of light grays and blues, and iterated toward a design with explosive images against black backgrounds, distressed textures, and big, high-contrast headings. The result is both dramatic and clear, boldly visualizing the worldwide impact of ICTJ.
Mapping: Form & Function
One goal in the redesign process was to communicate the geographic range of ICTJ's work. It was important that users could immediately identify specific locations for ICTJ programs worldwide, as well as ICTJ's overall global reach.
We created a world map, using OpenLayers and MapBox tiles, with points representing ICTJ's involvement in specific locations around the world. The result allows users to navigate the work of ICTJ using an intuitive map interface, as well as to comprehend, at-a-glance, the organization's global reach.
In addition to providing a map interface for navigating programs around the world, the OpenLayers map serves as a design feature on each country profile page in the website, orienting users to exactly where in the world the particular programs they are viewing have impact.
Prototyping, Usability Testing, and Implementation
The website was built in Drupal 7. Immediately following sign-off for wireframes, we began creating the website structure in Drupal, defining content types and navigation menus, and publishing initial content. An early prototype was finished at roughly the same time as we were receiving final approval for the design concept. The prototype provided a clickable mock-up of the website, with both navigation and preliminary content that could be evaluated with usability tests, very early in the process.
We performed the first series of usability tests on the approved design concept for the home page, and on the early prototype. Results were incredibly positive, and pointed primarily to content as the major area for improvement. Like so many non-profit organizations, ICTJ was challenged in clearly and simply communicating *exactly* what it does. That it worked in societies trying to rebuild after conflict and human-rights abuses was clear; exactly what it did to redress these issues was not. Usability testing not only provided feedback for what was and was not working in the design and structure of the website, but also provided strong direction for how to craft content that clearly defined the complex work of an of an organization which itself bears a name that is a complex acronym.
Results from initial usability tests informed the rest of the process, and were validated by the second series of usability tests executed near the end of the project.
Next Steps
Work continues on ICTJ.org, with upcoming functionality to include a news aggregation service for transitional justice related content; an automated newsletter (sign up for it here; the ICTJ podcast; and translations for languages including Spanish and Arabic.
Services Provided
Strategy, IA, Design, Usability Testing, Mapping, Drupal Development, Hosting