RHoK.org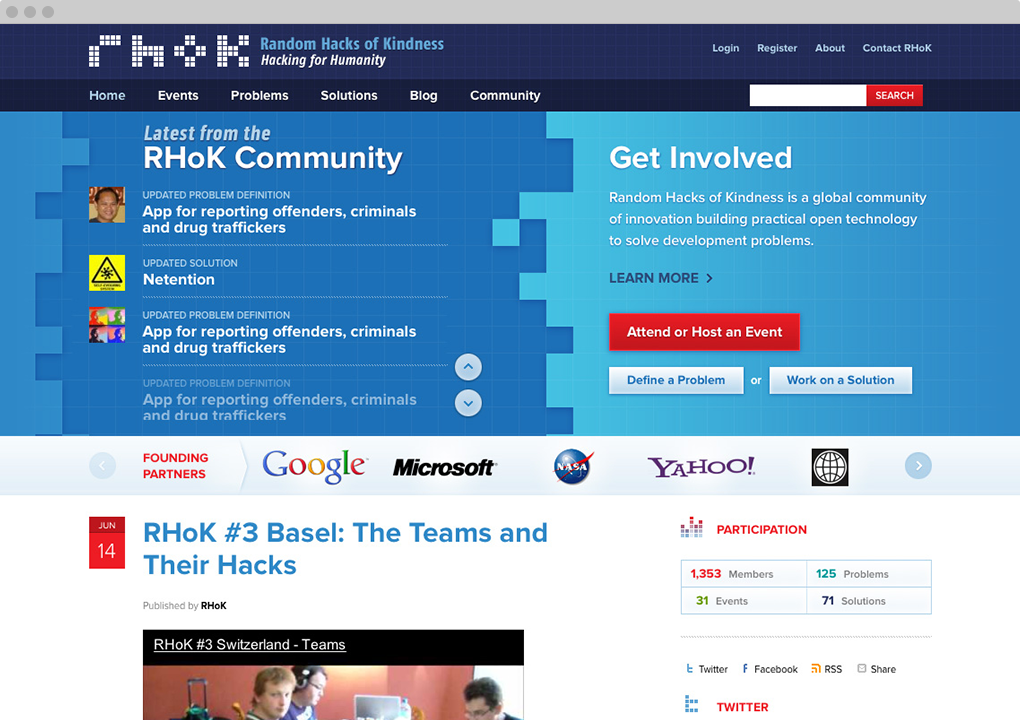 Random Hacks of Kindness is a community of innovation focused on developing practical open source solutions to disaster risk management and climate change adaptation challenges. Random Hacks of Kindness was founded in 2009 in partnership between Google, Microsoft, Yahoo!, NASA and the World Bank. Since then thousands of volunteers have worked on applications that are already making an impact.
Aten Design Group worked with Random Hacks of Kindness to build a social platform that facilitates collaboration between subject matter experts and technologists around the world. Built in Drupal, the system allows subject matter experts (SMEs) to define such far-reaching problems as human rights violations, crime, disease epidemics, natural disasters, and other global crises. In turn, technologists are able to commit their assistance and engage with teams of developers to create technology solutions for these problems.
Designing for a Sense of Community
Throughout discovery, the client team consistently described Random Hacks of Kindness as a "Community of Innovation". The idea of community, of human interaction being at the center of the project, was a focal point for the design process. We worked through several design iterations, each further refining the idea of promoting the community that drives the important work of RHoK.
Dual Audiences: Targeting International Development Experts and Software Engineers
The primary audience for RHoK.org falls into one of two very different roles; the first being subject matter experts in the field of international development, the second being technologists largely in the field of software design. The RHoK platform needed to serve the needs of both. We designed data entry forms to be clear and concise, maximizing efficiency for SMEs, whose time is both limited and under constant demand. For both problems and solutions, we created features for committing assistance, flagging content, updating development statuses, and adding examples of real-world implementations.
Connecting Users Virtually and In Real Life
While SMEs and technologists needed to be able to connect online using the RHoK platform, a primary use-case for the website was to facilitate face-to-face collaboration during world-wide RHoK events. The website launched ahead of "RHoK #3", an event that brought together more than 1,500 self-proclaimed "hackers" in nearly 20 cities around the world. Participants of the international event used RHoK to facilitate onsite communication during the event, and to organize efforts around specific technology solutions at specific event locations. Technologists and SMEs at RHoK Nairobi, for instance, were focussed on problems including relief food distribution and a collaboration space for NGOs; in Melbourne, efforts included solutions for crowd sourced earthquake intensity maps and rapid dissemination of disaster information.
Scalable Infrastructure
Leading up to the event in June, RHoK.org was widely publicized on sites like CNN.com, Mashable, PCWorld, and a host of others. We worked with the team at RHoK to implement a responsive, scalable infrastructure in the cloud. In addition to implementing application-level caching in Drupal, we worked with the RHoK team to deploy Nginx, as well as to tune Apache and MySQL services for optimum performance.
The entire project, from kick-off to launch, spanned a mere 6 weeks.
Services Provided
Strategy, IA, Design, Drupal Development, Server Deployment and Tuning