ICA Teens
The Institute of Contemporary Art Boston
ICATeens.org empowers ICA Teens to engage and challenge each other, their teachers, and the public via rich interactive media.
Visit ICATeens.org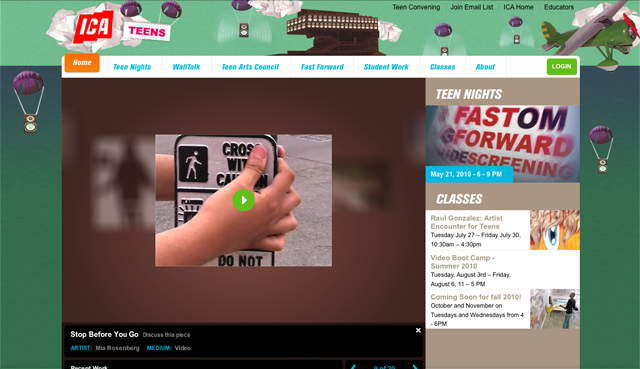 Designing the Interface
The Goals
We teamed up with ICA Teens to craft a user experience that effectively engages and inspires their programs' primary contributors: teen artists. The design concept needed to adhere to ICA's branding guidelines while vigorously expressing the unique, frenetic energy of its teen programs, workshops, and events.
Beyond creating a compelling look and feel for the initial launch, we were asked to construct a modifiable visual framework that would encourage teen artists to apply frequent design updates. This way, the actual look and feel of the ICA Teens website could help to promote their events, recognize their artists, and reflect their creativity.
The Solution
Throughout the design process, we engaged a wide group for participation and feedback including staff, students, and student leadership at ICA Teens. Once goals were distilled from the downpour of responses we received to early surveys and interviews, we proposed a fitting website architecture. After some iteration on wireframes, we began designing the look and feel for the website, working with ICA Teens to visually interpret the essence of its mission and programs for the web.
The resulting design showcases teen artists' work in a series of interactive online galleries, incorporates themes from ICA Teens' programs and publications, and provides a simple, CSS-driven approach for easily creating and implementing variations to the overall look and feel.
Built with Drupal
Seeking robust content management capabilities, fine-tuned permissions control, and a flexible application development environment, ICA Teens chose Drupal as the platform for deploying icateens.org. We installed Drupal 6 and a wide range of contributed modules, then configured a prototype with baseline functionlality for necessary features. From there, we fine-tuned technical components through iterative revisions based on client participation and feedback.
Technical features included:
Interactive art galleries, created with Flash, that pull video, images, and text from both local and third-party data sources.
A custom Views 2 style plugin for serving Drupal content to Flash galleries using serialized arrays.
Custom content types for defining theme variations, without requiring additional CSS or HTML, and publishing them for specific sections of the website.
Workflow and reporting for class registration.
Customized user profile pages.
Granular permissions for controlling how content is published -- and accessible -- throughout the website.
Evolving Product
The production effort for ICATeens.org has followed a "Release Early, Release Often" development model that encourages continuing collaboration and maintains focus on empowering user participation. New features and content continue to be deployed on a regular basis.